Workers at the loading dock are focused on two things: What's coming in and what's going out. The flow of inventory is what keeps business moving forward.
But there are other aspects of the loading dock that are worth keeping an eye on, such as what you need to keep out and what may be sneaking in. An improperly sealed loading dock is a welcome entrance to everything from pests to precipitation to pilferers.
Dock seals and shelters are essential to keeping your loading dock clean and climate controlled. Seals are composed of foam, fabric and a sturdy backing usually made of wood or steel. They're affixed to the perimeter of the loading dock door. Trailers back into them to create a fitted barrier. Shelters are also mounted to the perimeter of the dock door, but they have a frame that extends outward to create an enclosure around the sides and top of the trailer. A series of curtains on the frame protect against undesirable conditions like rain or insects.
Shelters and seals come in many varieties, and what works for one facility may not work for another. So how do you choose the right one? Smart selection begins with asking the right questions. Begin your dock seal or shelter search by filling in these blanks:
What types of trailers will your dock accommodate?
We see it all the time: dock seals rendered useless simply because they're not paired with the right trailers. Why spend the time and money to install high-quality seals if they won't actually seal the facility from the outdoors?
Dock shelters better serve trucks equipped with lift gates or rear-loading platforms that cannot back up flush with the side of the building.
If your trucks can come in direct contact with the building face, seals will work well to form a tight barrier. However, you'll also need to evaluate the different types of seals, and just because a seal could work doesn't mean it's the best option.
How is your dock designed?
When choosing your dock door seals and shelters, take into consideration the way your dock is arranged and the characteristics of your facility.
First, look at your loading dock bumper protection: How far out is the projection? This will determine how far out you need to design your seal or shelter to provide an adequate seal of the trailers you are servicing.
Drive approaches are one of the most misunderstood components of dock seal and shelter design. Level driveways are pretty straight forward, mistakes are common when designing a drive or truck well with a decline. The issue is that design teams don't always calculate the proper bumper protection for these styles of dock approaches. If they are not designed properly, the trailers backing down into the truck well risk colliding into the building and causing extensive damage.
Seals should be tapered 1 inch over its length for every 1% of driveway grade. When the drive has more than a 2% percent slope, it's critical to get the tapering right. If you don't design the seals to taper appropriately for the slope of the drive, it will be difficult to control the building's climate as cold or warm air escapes and outside air enters.
Correcting these design flaws after the fact is expensive, as they not only affect the dock seal or shelter but also the way the dock equipment performs. In most cases, these pieces of equipment have to be modified too.
The footprints of dock seals and shelters vary. Shelters take up more space than seals, so if you are designing a dock with shelters, you need to review the space between openings to ensure you have space to mount units. Also, be aware of lights, gutters and other fixtures that may land in a unit's footprint.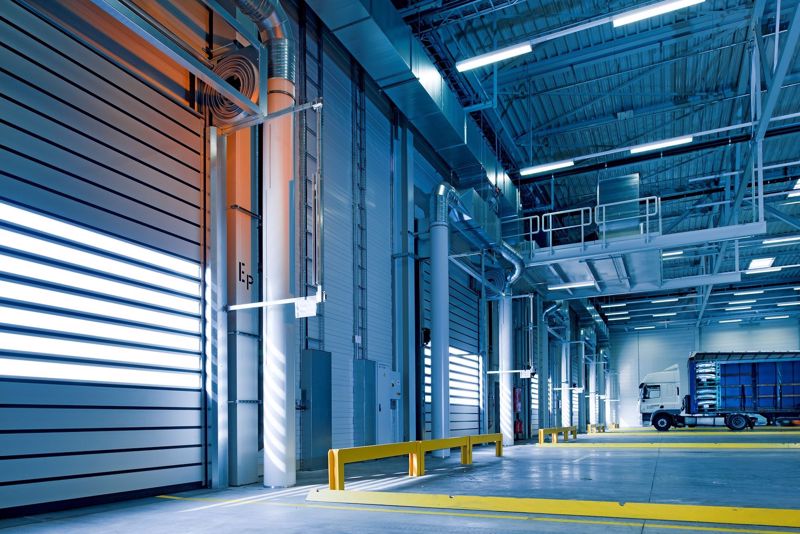 Does your facility use forklifts or yard jockeys?
Your facility uses many types of equipment, and each one affects the work environment. Most loading docks have forklifts that need to drive in and out of the trailers.
Some loading dock seals can limit forklift access to the trailer if the padding of the seal is squeezed and pushed inward toward the opening of the trailer. That's not to say that docks with seals can't use forklifts, it is just something that owners should be aware of as they can cause premature wear of seals and cause loading issues with wide loads.
Yard jockeys can also create issues at the loading dock. These internal trucks are often used to spot trailers at docks, but they move trailers up and down during the spotting process. This movement can create wear at the corners of the upper portion of the dock seal. Adding a sliding head pad option, however, can help protect seals against these motions. Sliding head pads can move vertically about 6 inches to accommodate the yard jockey's influence on trailer movement. Two-piece head pads can also relieve the pressure yard jockey's put on the top corners of the dock seal as well as the building.
In an ideal world, every trailer would back up to your facility perfectly, with no margin of error that could cause damage to your dock or the assets affixed to it. However, there are times when trailers come in too wide or too narrow, or when yard jockeys spot the trailer into a slightly skewed position. In these situations, it's important that the shelter can withstand the mistake.
Shelter frames come in two basic varieties: rigid and flexible. They're both effective at keeping contaminants out, but the flexible frame resists impact better than the rigid frame. The flexible frame is designed to give if a trailer backs up off center, making it less likely to break when bumped by a trailer.
How often do trailers dock at your facility?
It's not always about what kind of trailers your facility uses but how often trailers arrive. High-traffic loading docks will inevitably incur more wear and tear on their equipment, so it's important to choose assets that are built for the long haul.
Dock shelters are generally more durable than seals in facilities with heavy traffic. That's because they aren't subject to the same direct impact that seals are. Since shelters are designed to surround the trailer rather than endure the weight, force and friction of the trailer, they're more likely to last longer.
Where dock door seals make better sense than shelters for other reasons, seals can be made with more durable or friction-resistant fabric, which can prolong the useful life of the seals. Further, upgrades like sliding head pads can help reduce the wear on the sealant system as a whole, which can help the seals stay in good condition.
What conditions do you need in your facility?
If your facility has specific climate requirements, as is the case in any cold-chain facility, then choosing the right sealing method is critical. Any gaps left open can cause cool air to escape, allow warm air to enter and welcome in contaminants like pollen, mice, insects or dirt.
Dock seals make the best enclosures because the trailer compresses against it, making a firm barrier. However, sometimes dock shelters are the best option for a variety of circumstances.
Has a Miner professional inspected your facility?
There's one final question to ask before you make a decision about which dock seals or shelters you need: Has your facility been inspected by an expert in loading dock design?
Our professionals will come to your location, review your operations and give you an informed recommendation and quote at no cost to you. Our certified service specialists are experts of many different brands, so we can work with you to find the equipment that's best for your needs. Because of this, they'll give you a completely unbiased suggestion based on your unique needs.
While at your facility, Miner's experts will also point out any issues that could decrease the effectiveness of your dock seals and shelters. If the concrete surrounding your dock leveler is cracked, then heated or cooled air could be slowly seeping out. If your dock lacks truck restraints or wheel chocks, the trailer could move and a fork truck could roll right off the dock.
Because our specialists are trained on the necessary upkeep of the equipment we provide and install, we will also be there for you if things go wrong in the future. When you need a repair or replacement, Miner can help you determine the best route to take based on your budget and immediate needs. And when you want to have your facility inspected for emerging problems, we'll review your assets and perform any necessary proactive maintenance.
Sealing your loading dock is critical for protecting your facility and inventory, but the wrong model does little good for your operation. Make sure you're investing in an effective dock seal or shelter by working with Miner. Contact our facility experts for more information.