Install and Maintain Your Loading Dock Equipment with Miner
Your loading dock is the heart of your supply chain operations. With the right equipment, it can reach new heights of efficiency as part of a modern logistics process. Lacking those assets, however, employee safety and operational speed may suffer.
By working with MINER to select, install and maintain your loading dock equipment, you're improving this essential part of your warehouses, distribution centers and other commercial facilities.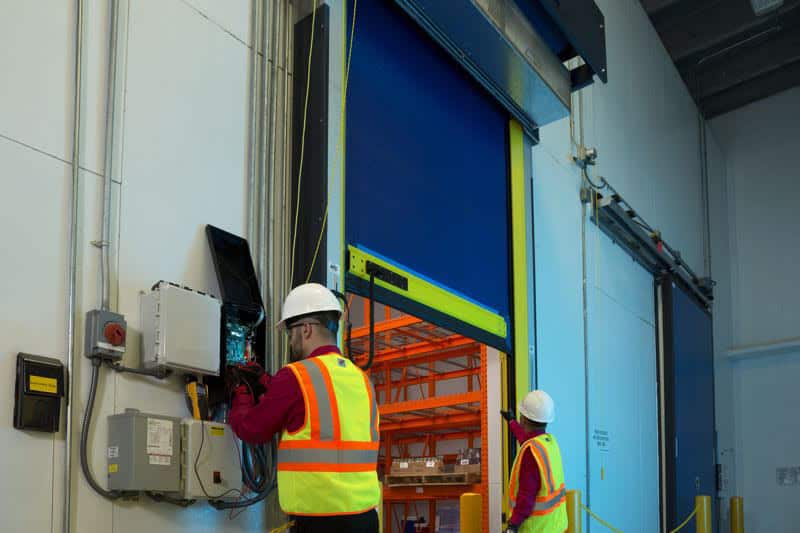 What is the business importance of the loading dock?
All goods moving within the supply chain must pass through loading dock areas. This can seem like a minor or obvious point at first, but its impact is profound. When trying to speed up logistics processes through the introduction of modernized practices, you must focus on the loading dock, to prevent it acting as a bottleneck for productivity.
A single equipment failure on the loading dock can lead to hours of lost productivity as trucks are unable to load and unload. This highlights the importance of having effective equipment repair practices in place, but even more so the value of equipment selection, installation and maintenance strategies that will minimize the risk of downtime whenever possible.

Facilities are often constructed without knowledge of the exact ways in which they will be used as time goes on. The equipment in place on the loading dock and elsewhere can be insufficient for its intended purpose, installed incorrectly or not adequately maintained. Watching out for these potential issues and correcting them is an important part of operating a loading dock.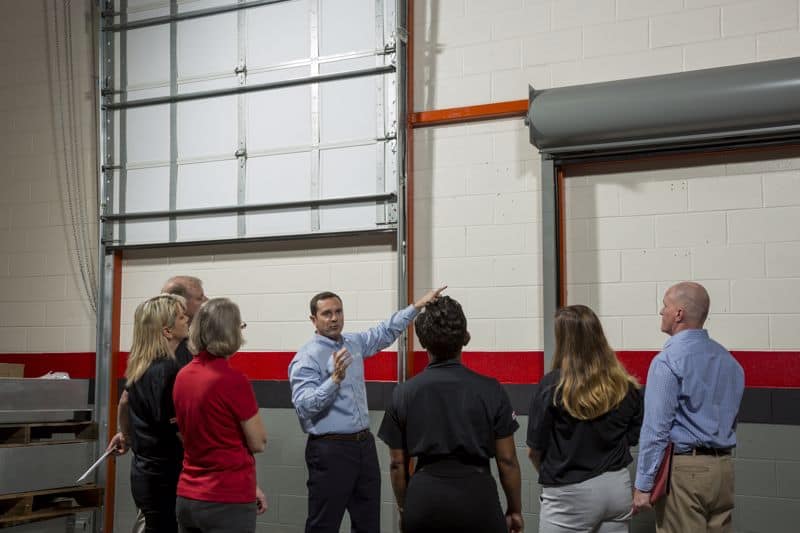 What equipment should be present on your loading dock? 
The exact makeup of the assets on your loading dock will depend on the usage patterns of your facility. Depending on the type and amount of goods that move through your facilities, you will need a unique set of capabilities.
The general categories of loading dock equipment installed and serviced by MINER include the following:
Loading dock industrial doors
There are many considerations around selecting loading dock doors. You must ensure they are sized correctly for the trailers that will pull up to the loading dock — too large and they will decrease energy efficiency and environmental control, while small doors will hamper loading and unloading speed. You must also ensure the doors' opening and closing mechanisms are reliable and well maintained, both to keep employees safe and the supply chain moving.
Loading dock seals
The seals around your loading dock doors are essential parts of environmental control measures. These assets help you keep weather, pests and debris from entering the facility while personnel are loading or unloading trucks. Preventing the contamination of goods and maintaining the cold chain for Food Safety Modernization Act (FSMA) compliance are essential functions of loading dock seals.
Loading dock shelters
A loading dock shelter sits above and around the seal and the door, ensuring the elements don't damage shipments and helping workers go about their loading and unloading duties in safety and comfort. If you have to maintain a strict cold chain, a more advanced three- or four-sided rail shelter could prove vital.
Loading dock levelers
Having the right type of loading dock leveler to connect trailers with the loading dock is essential for both safety and efficiency. Using the wrong leveler asset could lead to dangerous failures, especially when forklifts are adding extra weight. Depending on the type and size of loads your business deals with and the environment around the loading dock, you can select from hydraulic dock levelers, mechanical dock levelers and pneumatic dock levelers. If space is an issue, you can operate vertical levelers with a minimal footprint.
Loading dock safety equipment
The commingling of workers on foot and heavy vehicles around the loading dock makes it a center of risk. By investing in equipment such as guard rails around sites of potential falls and sidewalls around the dock levelers, plates or bridges to help forklift drivers operate safely. you can raise safety awareness and lessen the chances of an avoidable accident.
Loading dock vehicle restraints
Simple vehicle restraint systems such as wheel chocks are not sufficient for preventing trucks from moving when employees are in an area where they might be struck, or forklifts are in a location where they could fall. More advanced trailer restraints are integrated with electronic light systems that shine red or green depending on whether it is safe for forklift operators to proceed.
Loading dock bumpers
Bumpers — laminated, molded or steel face — ensure trucks and trailers connect smoothly with loading docks. These assets have to be more than just present, they must also be correctly aligned with the grade of the truck well or the size of the loading dock door. Otherwise, vehicles could suffer damage or harm the facility. A breakdown caused by such an incident could shut the supply chain down for hours, leading to lost value.
What are the risks of leaving loading dock issues unaddressed? 
When loading dock equipment issues are not directly addressed — for example, if a facility's equipment has degraded over time or was never suitable for its purpose in the first place — there are numerous risks.
The most notable and urgent danger is the possibility of an avoidable accident that causes harm to an employee. These incidents can take many forms: A lack of segregation between pedestrian and vehicle lanes could lead to a collision. An inadequate dock leveler could fail, leading to a forklift falling between the loading dock and a truck. An unreliable door may open or close unexpectedly, putting workers at risk.
Even incidents that don't cause injuries can shut down the loading dock for hours or days at a time. The lost productivity from an out-of-commission loading dock may quickly cost your business huge amounts of money, as pick-ups and deliveries are forced to halt. Relying solely on reactive repairs and not taking action until an asset fails is not a suitable approach to loading dock equipment upkeep.
How should your company maintain its loading dock equipment? 
Every piece of equipment on the loading dock, from truck restraint systems to industrial doors and beyond, should be subject to frequent inspections and assessments, with proactive maintenance strategies in place to keep the assets in top condition. Such equipment should be graded on its suitability, status and age to ensure as many problems as possible are anticipated and counteracted before failures occur.
From selecting the best loading dock equipment from top vendors to installing the assets and designing and executing the perfect maintenance strategy, MINER is your ideal partner. Every process around loading dock equipment can improve, and working with MINER is the simple way to make that happen, whatever the scale of your company and wherever in North American you are based.