SPECIALTY DOORS YOU CAN TRUST – INSTALLED AND MAINTAINED BY MINER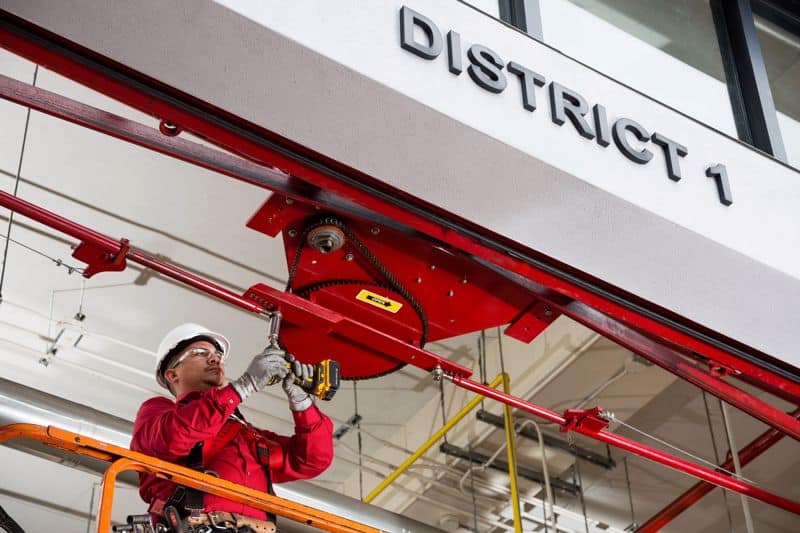 High-quality specialty door hardware, if well installed and diligently maintained, will allow workers in your facility to move smoothly between different areas, and help them maintain high standards of safety and efficiency.
While better use of situationally appropriate speciality doors can help your facilities thrive, the opposite — poorly chosen or worn-down assets — can lead to consequences such as supply chain delays or even safety issues. From the dock doors that allow your trucks to load and unload in a timely manner to the freezer and cooler doors that maintain the cold chain, each specialty door type has a role to play.
Working with an experienced partner organization such as Miner for custom installation and maintenance can give you the assurance that your commercial door needs are being met. Rather than providing a generic service, Miner's approach is tailored to each commercial building's requirement. This ensures your company's needs will be met, and that if those requirements evolve over time, so will your engagement with Miner's expert technicians.
TYPES OF SPECIALTY DOORS FOUND IN WAREHOUSES
The following are the four main types of specialty door hardware to select from while finding an ideal fit for your company's needs. They span interior and exterior doors, and deliver everything from security of assets to environmental containment.
High-speed doors divide your facility, helping to maintain temperature while also allowing quick, efficient movement of people and material. Supporting automatic opening devices, they pose no hindrance to authorized personnel while still maintaining divisions between the areas in your facility. Specialized doors that fit into this category include:
Rapid panel sliding doors and folding doors: A folding or sliding door can deliver the performance you need. These cost-effective, insulated doors open at 80 inches per second. Materials include aluminum, stainless style, FRP and Kydex, and you can install a cooler or freezer door variation. They are even capable of sealing clean rooms in pharmaceutical or high-tech manufacturing.
Fast-Seal doors: With optional replaceable glass door panels, this option enables visibility into rooms. The doors are designed for tension and counterbalance, open at 40 inches per second and include break-away bottom bars for tool-free repair.
Predadoor: These assets can resist wind and negative pressure, making them effective exterior doors. They have full-length replaceable glass door panels for visibility and open at 42 percent. Predadoor doors can be installed with little clearance space.
Turbo-Seal doors: Opening at 80 inches per second, these doors have automatic reversing edges, dual-guided counterweights and Quick-Set break-away bottom bars that reduce the need for maintenance, as well as optional glass panels.
Rapid fold doors: These folding doors offer full visibility and can resist the impact of a forklift or equivalent force. They are designed to last for a million cycles or more.
2. FREEZER AND COOLER DOORS
Sealing off the cold areas in your facility is essential from cold chain safety and energy efficiency perspectives. Without tightly sealed doors, cold air can escape and drive up your temperature control bills. These specialized interior doors deliver the necessary performance:
Arctec doors: Combining rigid door isolation and high-speed doors efficiency, these fully sealed doors require only 23 inches of head clearance and have optional windows. They stay free of ice with no panel defrost system needed, and can resist a forklift impact. They have a R-Value of 12.
The Fast Fold series: These sliding doors, mounted on Tec-Track rollers and equipped with pre-wired defrost systems, open at 7 feet per second, are fully sealed and are made of durable Puralon.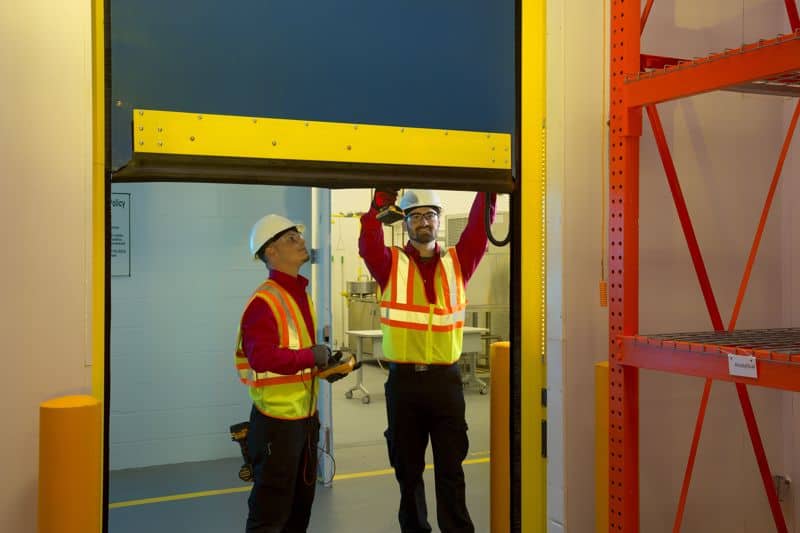 Impact doors are designed to sustain hits with high levels of force and remain sealed. In areas where powered assets such as forklifts are commonplace, such reinforced doors may save you significant emergency repair time. Miner offerings in this category include:
TKO Knock-Out sectional doors: These doors can break away and be reset in a matter of seconds. They are equipped with 2-inch or 4-inch insulated panels, use spring-loaded plungers instead of rollers and can be manual or motorized.
Bantam: the dock door alternative: These are roll-up dock doors made with heavy duty fabric. Up to 10 feet in height or width, they can open manually or via motor and consist of break-away tabs.
In addition to the aforementioned specialty door categories, Miner can provide your organization with customized fire doors that will help keep your team safe and pass all relevant inspections. A well-designed fire safety plan, with the environmental assets to match, is essential for any commercial building. For fire doors to do their job, door curtains and panels must be well maintained and motors have to operate at full capacity. Even a single fire could be devastating for your personnel and property, and having the right specialized door options in place is an essential part of preparedness and protection.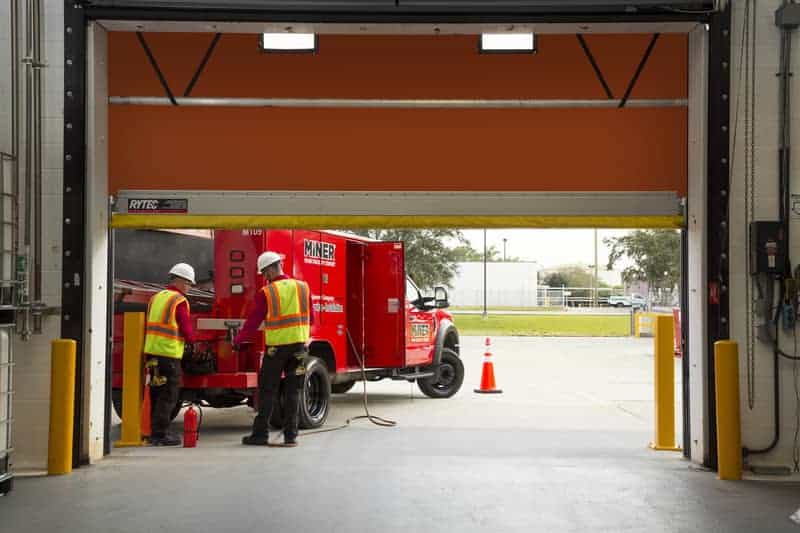 INSTALLATION AND MAINTENANCE OF SPECIALTY DOORS
Building out a specialized door configuration at your facilities is simple with MINER on your side. As a national equipment service provider, MINER is capable of providing installation, maintenance and emergency repair service for multiple locations through a single contact channel. MINER's scale allows closer original equipment manufacturer relationships, so you have priority access to a wide range of custom door options.
Rather than taking a one-size-fits all approach, MINER treats each specialty door installation as a custom job to an exact specification. Installation is carried out by expert MINER technicians, ensuring your specialized door system is handled with craftsmanship and set up properly to handle all possible situations that may arise.
After installation, your relationship with Miner isn't over. Proactive maintenance will keep your doors functional for millions of cycles. A suitable maintenance strategy for custom door assets is based on frequently updated data, ensuring your equipment receives the necessary attention to minimize unplanned downtime.
Same-day repair service is available from trained technicians should an emergency arise. These experts travel with aftermarket parts and tools to ensure they can get specialized door assets up and running quickly, regardless of type or manufacturer. After a fast repair engagement, your personnel can get back to using custom door systems to enable fast loading and unloading.
If you're ready to see the impact professional specialty door installation, proactive maintenance and emergency repair service could have on your facilities, request a quote today.