Warehouse Loading Dock Services from MINER
It's hard to overstate the importance of keeping the warehouse loading dock area working at peak efficiency. Through a combination of suitable assets, optimized workflows and proactive maintenance, your company should focus on improving its warehouses and distribution centers in general, and its loading docks in particular.
The importance of the warehouse loading dock
Incidents of downtime on the loading dock can lead to hidden costs for organizations at all levels of the supply chain, from raw material extraction to retail. When a warehouse loading dock suffers an accident or equipment failure, it may hold up truck loading and unloading. This in turn may negate efforts to provide just-in-time delivery and lose the company thousands of dollars, even if the issue lasts only a few hours.
When the loading dock is moving efficiently, powered by modern, data-driven planning methods, it is an integral part of logistics operations. On the other hand, when it is subject to breakdowns due to a lack of suitable equipment, staff training or effective maintenance, it can represent a bottleneck that puts the whole supply chain at risk.
Your warehouse loading dock should suit your operations, and that could call for a specialized configuration. Today, this may mean:
A smart building equipped with sensors to make the loading dock part of the industrial internet of things (IIoT) and enable analytics in delivery and inventory management.
An optimized area with numerous push-button and automated features to speed truck loading and unloading, along with advanced loading dock safety tools such as vehicle restraint assets, to prevent faster operations from raising employee risk.
A facility optimized to maintain a strict cold chain and comply with the Food Safety Modernization Act (FSMA), with features such as drive-through loading dock doors that protect loads from contamination and temperature changes.
With MINER as your facility partner, your warehouse loading dock can reach its full potential as a facilitator of supply chain success, rather than a risk center.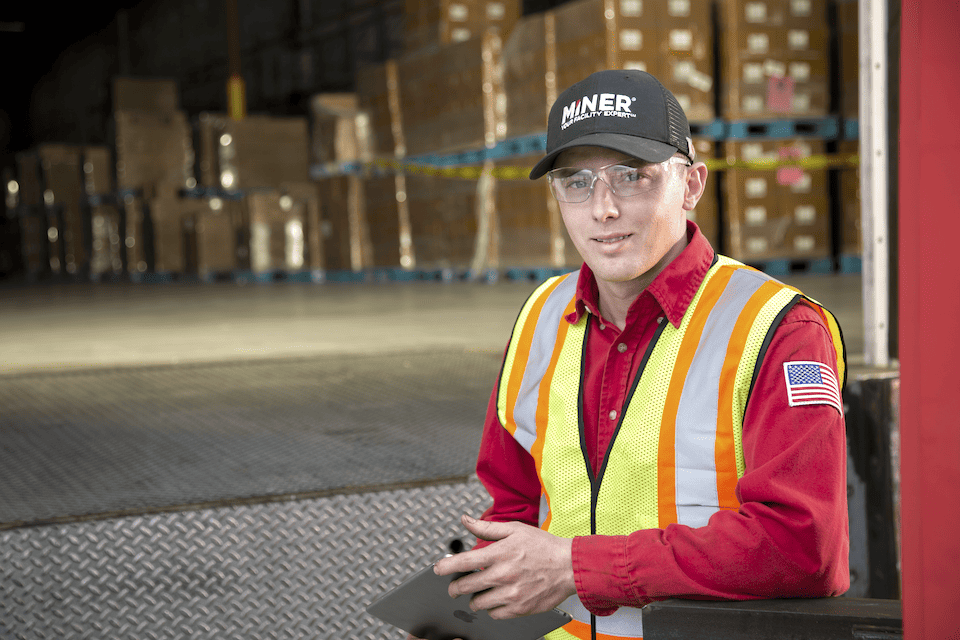 Warehouse loading dock equipment and installation
It's relatively common for facilities to be constructed with low-cost and non-specialized loading dock equipment. This is especially important to watch out for when the building was built as a mall or other commercial buildings and repurposed for warehouse use.

When moving into a warehouse or distribution center and setting it up for your company's unique needs, you may discover the facility's loading dock equipment has either degraded with time and wear, or was never suitable for your purposes in the first place.
Having the right loading dock equipment is important for a few notable reasons, each of which would be a convincing reason for an upgrade on its own:
Employee safety: As the supply chain moves faster, employees on poorly equipped loading dock areas may be at increased risk of a serious accident. From guard railing assets that segregate pedestrian and truck traffic to loading dock bumper and vehicle restraint solutions connected with electronic warning light systems, there are numerous safety-enhancing systems that should be in place.
Increased speed of loading and unloading: Creating a data-enabled warehouse loading dock that is part of an Industry 4.0 supply chain depends on having the right assets in place, from loading dock leveler, dock ramp and dock plate solutions to material handling equipment. Industrial loading dock door systems and other solutions can now be easily managed from a single control panel, while advanced sensors can provide real-time data insights that keep logistics processes moving.
Security of facilities and goods: The loading dock is a portal into your warehouse, which means it must be protected against intruders, pests and weather. This is especially pressing when maintaining a temperature-controlled process for compliance with FSMA or similar laws. The right equipment — loading dock seal and loading dock shelter assets, industrial door control systems and more — can provide this protection.
MINER is the ideal partner to help your company select the right loading dock equipment to fit each of these roles. Through close relationships with top equipment vendors across regions, MINER can ensure that you have a wide variety of options to choose from, enabling you to make a perfect match between the assets and your needs.
Through MINER's design and install program, you receive consulting and insights on the ideal loading dock equipment for your facility. By working with our trained experts, your company can ensure the assets are installed and configured correctly. MINER provides assistance that can begin in the design phase and extends to startup, commissioning and beyond.
Once the assets are installed, it's important to ensure they stay in top condition and do not degrade over time in a way that will make them dangerous to employees or the integrity of the supply chain. This is where ongoing maintenance and repair services enter the equation.
Warehouse loading dock maintenance and upkeep
Keeping a proactive watch over all warehouse loading dock equipment is absolutely vital for your organization. Running a purely reactive repair strategy and only repairing equipment when it fails can compromise loading dock efficiency. That downtime can be minimized with a more active approach to maintenance.
The ideal approach to modern maintenance combines safety with efficiency, using greater visibility into each asset's suitability, age and present status to accurately plan proactive maintenance and optimize total cost of ownership. This modern approach to loading dock upkeep can be broken down into the related disciplines of surveying and maintenance.
Surveying with MINER involves a user-friendly tool, set available from mobile devices, that allows personnel to keep a closer watch on loading dock assets than ever before. This can lead to:
Regularly updated safety and productivity assessments of each facility you operate
Improved budget calculations, with accurately targeted spending and lower total cost of ownership
A documented plan of action for OSHA awareness and general safety preparedness
More accurate monitoring of equipment efficiency, prolonging life cycles
An advance view of warranty, proactive safety and maintenance concerns
Once that work is complete, it's time to implement an equipment upkeep strategy. A truly proactive maintenance program created in partnership with MINER can deliver:
Less downtime and more productivity through early detection of potential problems
Maximized return on investment from each asset, enabled by more accurate equipment life and total cost of ownership calculations
Greater safety awareness and improved cleanliness around the loading dock area
Lower energy costs due to proactive attention to assets essential for temperature control
Reductions in unplanned maintenance of up to 50%, keeping the supply chain moving
With these strategies in place to compensate for the most common areas of loading dock issues, your organization is free to reap increased supply chain value.
Streamlined and safe warehouse loading dock operations
Today's supply chains are powered by data and optimized to meet increasingly ambitious delivery time targets. A breakdown at any stage of this process can have knock-on effects that can decrease client satisfaction.
Your approach to loading dock equipment, from purchase to installation, configuration and ongoing maintenance, can help maximize operational efficiency, enabling your company to reach the potential of a modern logistics approach.
By working with MINER, you gain access to our close vendor relationships, our national reach, our technicians' expertise and our consulting insights. Some or all of these advantages can fit perfectly into your warehouse loading dock strategy.