INSTALL AND MAINTAIN INDUSTRIAL WAREHOUSE EQUIPMENT WITH MINER
The equipment within your warehouse or other industrial facility will play a large role in determining whether personnel are able to do their jobs at a high level of productivity and efficiency. Not only do you need the right assets, the equipment must be installed correctly and maintained effectively. This cuts downtime and enables smooth warehouse operation.
Many of the most important pieces of warehouse equipment today serve in multiple roles simultaneously. Automated material handling and racking systems reduce physical exertion by employees while also enabling more efficient use of space. Environmental systems such as industrial fans can circulate fresh air for your team while also helping maintain the correct temperature in the work area. Updated assets can create significantly improved conditions that will endure for years, provided they receive adequate maintenance.
When you work with Miner for any or every step of the warehouse equipment management process — from selection and installation to ongoing maintenance — you gain peace of mind. Every asset will be right for the job at hand and maintained to the highest standards. 
WHAT EQUIPMENT DO YOU NEED IN YOUR WAREHOUSE?  
While there are as many types of warehouse assets as jobs to accomplish, they break down into a manageable number of major categories. From dock equipment that enables quick loading and unloading to material handling equipment for effective movement throughout the facility and storage equipment for safe control of goods, getting maximum usage out of your warehouse space means selecting the right asset in each category.
Improving the performance of your existing warehouse and distribution centers is a way to enhance the overall effectiveness of the supply chain without making a major real estate investment. The cost of installing and maintaining new equipment can be offset by these notable benefits. In fact, cutting-edge and well maintained assets can represent a financial advantage when compared to keeping legacy technology in place — the emergency repairs to outdated hardware can be extremely costly, and a single accident caused by worn-out warehouse equipment may prove devastating.
The following are a few of the most important pieces of warehouse equipment to focus on, broken down by category. Warehouse operations today can only be carried out at peak efficiency when every asset has been accurately chosen, correctly installed and scrupulously maintained.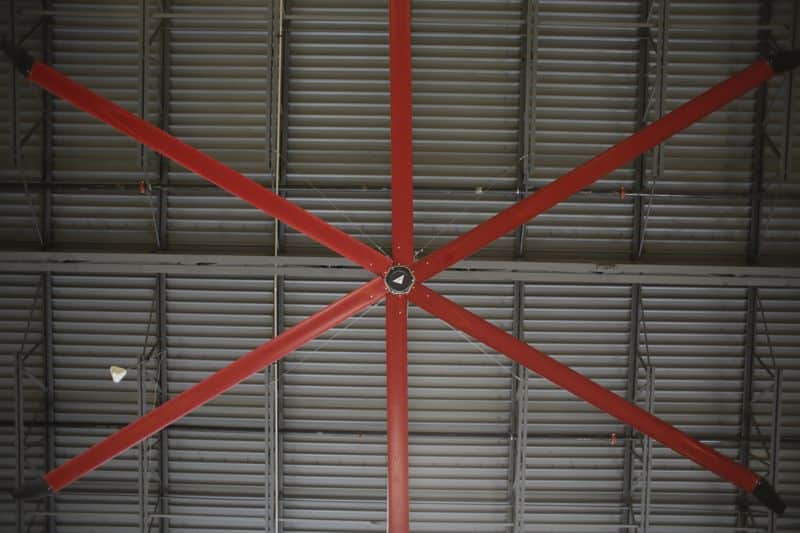 ENVIRONMENTAL SYSTEMS 
 Maintaining the right temperature and correct level of airflow in your warehouse is essential from both safety and energy efficiency perspectives. Air flow and safe temperatures are important for all companies, and environmental systems only become more vital when your organization must maintain specific temperatures as part of a cold chain. In these cases, specialized doors will be necessary to enable energy-efficient cooling of specified storage and material handling areas.
HIGH VOLUME LOW SPEED (HVLS) FANS 
 By circulating air in your facilities and evening out the temperatures of various areas, these industrial fans are essential parts of a temperature control system for any warehouse. When these fans are well maintained to guard against issues such as damaged blades or worn-out motors, they can keep heating and cooling costs low.
INDUSTRIAL FAN CONTROLS 
 Your air circulation system is not complete with the fans themselves. You also need advanced and high-tech solutions to control and direct those assets. Miner offers iFAN industrial fan control systems, operated from centralized flat-panel displays, to ensure peak heating and cooling efficiency. Giving employees in the facility such an intuitive and fully featured set of controls is a good way to enhance your overall environmental systems.
FREEZER DOORS AND COOLER DOORS 
 Maintaining the cold chain is not possible, at least not in a budget-friendly manner, if freezer or cooler doors are compromised. The seals around these doors and their insulated panels are designed to keep air from moving between areas, keeping temperatures consistent and not requiring excessive use of HVLS fans and other air conditioning equipment.
SAFETY EQUIPMENT 
 The guard rails, lights and other solutions in use throughout your facility will help your team stay safe, and ensure your facility passes inspections with high marks. Inspectors from agencies such as OSHA will check to ensure your company has invested enough time and care in its safety equipment. Facilities that lack safety assets are at risk of noncompliance and preventable accidents, while well-protected work environments will naturally be more attractive to prospective employees.
DOCK LIGHTNING AND DOOR PROTECTORS 
 Loading dock equipment to promote safety during truck loading and unloading is an essential category of warehouse assets. This includes bollards, guard rails and dock barriers to control the space on the loading dock, as well as lighting systems to ensure everyone can see clearly at all times. Improved visibility for both drivers and facility personnel can prevent accidents before they occur.
SAFETY AND REFLECTIVE SYSTEMS 
 Safety and alert systems that increase warehouse asset visibility will help you stay in compliance with industry regulations and safeguard personnel against preventable accidents. The risk of dangerous workplace incidents, including collisions between personnel and powered equipment such as forklifts, can be significantly reduced when the environment is laid out with visibility-increasing safety systems.
MATERIAL HANDLING ASSETS  
The effective movement of goods through a modern warehouse can depend on the use of automated material handling equipment. Personnel with access to these assets can work more quickly and with less strain on their bodies, simultaneously increasing per-employee productivity and reducing the risk of repetitive stress or other workplace injuries.
VERTICAL RECIPROCATING CONVEYORS 
 These conveyors, designed to move goods but not people between multiple loading dock levels, are an efficient and cost-effective alternative to freight elevators. If your facility features a busy dock area, vertical reciprocating conveyors can help trucks load or unload more quickly, keeping the supply chain moving.
FACILITY PROTECTION SOLUTIONS 
 All types of security tools for your facility, from manual or powered gates to safes and locks, are available through Miner. These are important to protect assets and intellectual property during off hours. Internal and external doors alike can be reinforced through new manual or automatic locking mechanisms.
IN-PLANT LIFT TABLES 
 Lift tables, which move heavy loads between elevators, will differ in usage depending on a facility's requirements. Miner can deliver a custom installation that suits the exact type of materials your people move. Alternatives to lift tables often include physical exertion which can both slow your personnel down and put them at risk of repetitive stress injuries.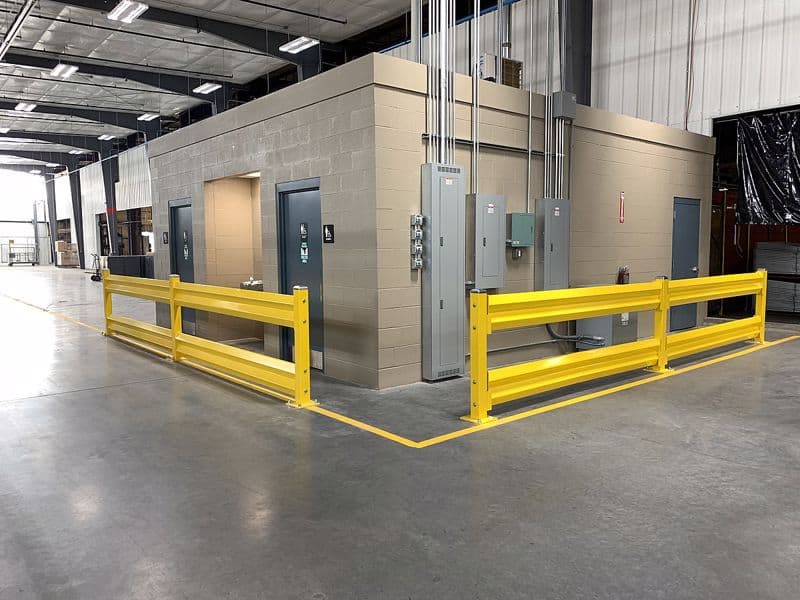 SPACE MANAGEMENT WAREHOUSE EQUIPMENT 
 Floor space maximization is not just important because it allows you to store more inventory. Warehouse operations in uncluttered buildings with wide, accessible lanes are also safer than in disorganized facilities that use too much floor space for pallet rack, cantilever rack and shelving units. By combining greater capacity with increased safety and reduced strain for your employees, you can upgrade several areas of operations simultaneously.
IN-PLANT OFFICES 
 Space management in a facility can be complex. One way to open up additional room on the shop floor is to deliver a lifted mezzanine office. From the high vantage point, supervisors can observe the warehouse floor. Whether you're clearing space by relocating an existing office to a higher elevation or creating a whole new administrative space, lifted in-plant offices can be a great addition to your facility.
AUTOMATIC RETRIEVAL SYSTEMS 
 A greater degree of automation in storage and pallet racking systems can clear floor space, because shelving and stacks can extend upward instead of taking up horizontal room. They are also ergonomically advantageous, as workers can operate them by button presses and avoid strain.
VERTICAL DOCK LEVELERS 
 When you can store your dock levelers vertically instead of using traditional pit levelers, you gain back valuable square footage on the loading dock, one of the most active and trafficked parts of any warehouse. As with any area of the facility, there are both efficiency and safety benefits to keeping your dock clear of obstructions.
HOW CAN YOU MAINTAIN YOUR EQUIPMENT TO MEET AND EXCEED OSHA STANDARDS? 
The Occupational Safety and Health Administration maintains a long list of warehouse security standards, due to the relatively high risk associated with these workplaces. Some of the most commonly cited standards involve the maintenance of safe dock areas, as well as the operation of electrical and mechanical warehouse equipment.
To comply with standards, you must think about both creating a safe environment and adequately preparing your workers to interact with every piece of equipment and all warehouse supplies they will use day to day. A safe, compliant warehouse is one with clear aisles for forklift or pedestrian movement, adequate railings, clearly marked hazards, adequate ventilation and more.
A failure in a critical system or a lack of the right equipment could not just cause inspection failures and the resulting fines — weaknesses in your assets represent a real danger to workers' safety and their morale. In fast-moving warehouse management, with numerous risk factors on all sides, it's not acceptable to wait for asset failure before performing maintenance. You must get ahead of potential problems with comprehensive strategies.
When you work with Miner not just during the installation of your warehouse assets but for ongoing proactive maintenance, you gain a vital perspective on long-term asset maintenance, as well as access to same-day emergency repairs from trained technicians when you need them.
Having emergency repair personnel on call is important for every organization because even the best proactive maintenance program cannot account for every mechanical failure. Miner's technicians arrive in trucks stocked with the tools and materials they need to make repairs, enabling them to solve any potential issues on the spot and reduce the delays to your business as much as possible. Getting your assets back to work quickly protects your bottom line, and ensuring they are repaired to high standards prevents risk to your team.
The relationship between Miner and clients can go deeper than a standard agreement between a facility owner and an asset partner. By dealing with your needs on a strategic level, you can ensure your warehouse equipment is optimized to deliver business value. Miner experts understand the effect of technology on overall facility performance, and can work with you to find the right fit.