LOADING DOCK DOOR EVOLUTION: WHAT YOUR FACILITY NEEDS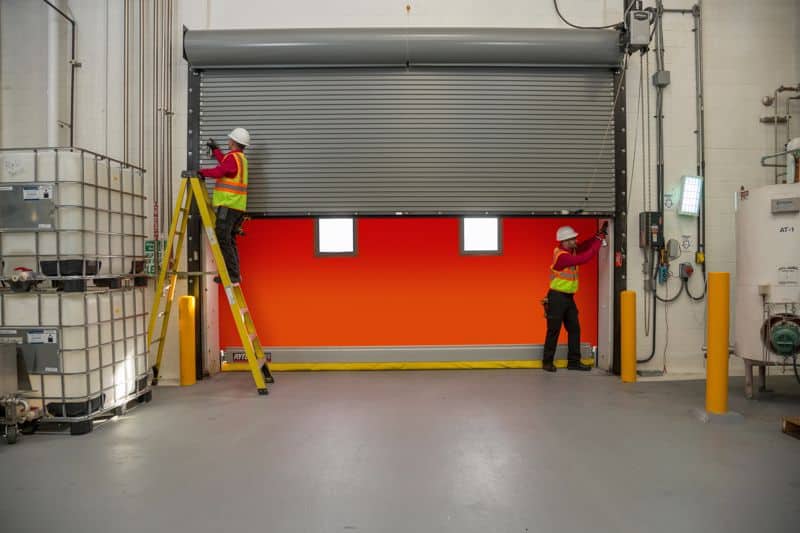 Does your facility have the loading dock equipment it needs to keep logistical processes moving in an efficient and cost-effective way? This question isn't as simple as it seems. Aging loading dock door assets may not be providing optimal performance. You could have more opportunities for improvement than you first assume.
The average age of warehouses in the U.S. is over 30 years old, and a majority of these buildings are over 50. Over the decades, loading dock door evolution has continued on a steady pace. Add this to the fact that many facilities did not have suitable equipment even when they were new, and you can see how a dock door upgrade may help your supply chain operations.
The advantages provided by new loading dock door assets cover multiple areas, including energy efficiency, loading and unloading performance, and employee safety awareness. From peak season activity to everyday logistics needs, the right commercial overhead doors deliver the performance your facility deserves.
LOADING DOCK DOOR ENERGY EFFICIENCY AND TEMPERATURE CONTROL
Worn or unsuitable loading dock doors can compromise your temperature control efforts. This, in turn, tends to lead to energy efficiency problems. Air conditioning and heating units don't have to work as hard when your facility is equipped with new loading dock doors, as less air will be lost around the edges of these tight-sealing assets.
Whether you are attempting to create a net-zero-energy building to qualify for financial relief from the local government or simply hoping to reduce your monthly power bill, the right loading dock door can help you reach your goals.
Beyond the energy efficiency provided by tight-sealing loading dock doors, these assets can be essential in helping your company achieve a reliable cold chain. Sealing in cold air with insulated doors is an important step in achieving Food Safety Modernization Act (FSMA) compliance. By the same token, your facility doors are key for keeping out pests and the elements, preventing the contamination of shipments.
Dock doors themselves are not the only assets involved in protecting goods. Loading dock shelters and seals deployed around the doors can make a smooth tunnel between a truck and your warehouse. Selecting the perfect shelters and seals for a facility means choosing the correct material, size and construction type to stand up to the conditions on your loading dock.
In more advanced cold chain scenarios, companies are embracing drive-through loading and unloading styles, in which a trailer is completely sealed off from the elements. Space-saving vertical dock levelers are important in enabling this model of warehouse construction.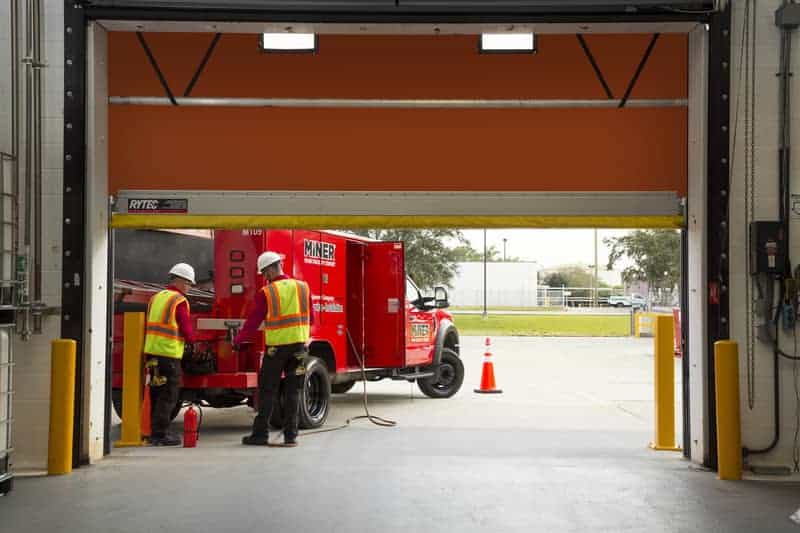 DOCK DOOR SIZE SELECTION FOR FLEXIBLE LOADING AND UPLOADING CAPABILITIES
The dimensions of your loading dock door are another feature that may go overlooked but can play an important role in determining how effectively your logistics operations function. Choosing an optimal door size means balancing factors such as loading and unloading speed against other considerations, including energy efficiency.
One detail to keep in mind is that your facility's existing loading dock door systems may not represent the perfect match for your needs. It's relatively common for warehouses to not be equipped with the highest-quality loading dock equipment, especially in the case of facilities that were constructed for another function, such as retail.
Since doors come in a variety of shapes and sizes, you can consider width and height separately to get your ideal loading dock setup. When choosing width, you should be thinking about how wide a trailer is, but not trying to match that size exactly. Doors should be wider than a truck bed for ideal loading and unloading.
The standard truck width is 8 feet, though it is also common to find 8.5-foot wide trucks. If your organization primarily deals with 8-foot-wide trucks, 8.6-foot doors are a good fit. In the case of larger, 8.5-foot truck beds, 9-foot doors are ideal. When in doubt, it is better to go for a larger door, as the occasional oversized load can cause unloading slowdowns if the door is not up to scale.
Door height is as important a consideration as width. In most cases, 8 feet of height will suffice. As with door width, however, it can pay to go for a larger scale if your company deals with oversized freight on a semi-regular basis. High door frames also reduce the risk of damage to tall stacks of product.
One case where it is clearly better to go with a taller door is when your logistics operations incorporate floor-to-ceiling loading. Under this system, employees optimize space by stacking goods all the way to the top of a trailer, minimizing shipping costs by maximizing how much can be transported in each semi truck.
The most versatile tall doors are 10 feet, but there are some added considerations with such large doors. The taller opening can lead to temperature control issues, as more air is lost. Using loading dock seal and shelter assets that match the door size can help prevent the potential energy inefficiency from harming your bottom line.
EFFECTS OF PROACTIVE MAINTENANCE FOR LOADING DOCK DOORS
Selecting new loading dock doors is only one step in improving your facility's logistics readiness. Expert installation comes next, ensuring there are no problems from the start. Mistakes during installation could lead to leakage of air around door frames, undermining the energy efficiency value of the equipment.
Next, it's time to create a proactive maintenance strategy that will protect your loading dock doors against avoidable breakdowns and costly downtime in the years ahead. An ideal proactive maintenance strategy involves an overview of every asset in the facility, with suitability, age and real-time status noted and updated often.
Expert personnel extend proactive maintenance protection to all loading dock equipment, as a dock leveler failure can have just as much of an impact as industrial dock door downtime. The right overhead door company will be able to offer this level of service.
Equipped with rich data, technicians can perform maintenance before potential problems arise, lengthening service life and optimizing total cost of ownership. Effective proactive maintenance, supplemented by emergency repair services as needed, can also have immediate advantages for your logistics personnel, including the following: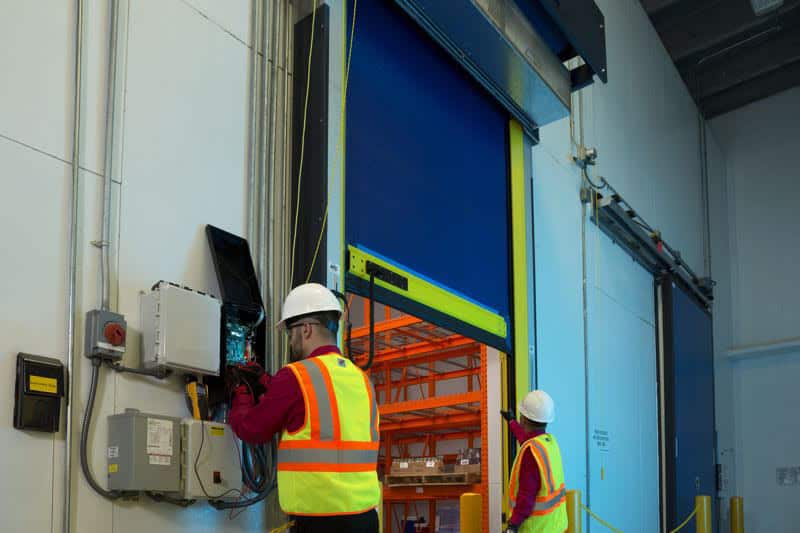 EFFICIENT SUPPLY CHAIN OPERATIONS
A loading dock door is the portal between your facility and the supply chain at large. This means an avoidable breakdown or incidence of downtime can bring your loading and unloading operations to a halt. The lost productivity as goods sit in trucks or the warehouse can add up quickly, totalling thousands of dollars in just a few hours.
While too many organizations operate reactive-only maintenance strategies, waiting for their loading dock equipment to break down before repairing it, the more effective approach to minimizing downtime is to get ahead of problems through proactive maintenance.
Reliable loading dock doors that have been maintained often can deliver better day-to-day performance, while also running a lower risk of stopping operations through an avoidable breakdown. This combination is a supply chain money-saver.
INCREASED WORKER SAFETY AWARENESS
Avoidable asset failures aren't just a risk to productivity. When a large piece of equipment such as a door suffers damage to an important system such as its track or its opening mechanism, employees in the area are at elevated risk.
Even a single injury on the loading dock can be devastating to the person harmed. Furthermore, if employees feel their employer does not take safe operations seriously, overall morale can decline, with recruitment and retention of top workers becoming more difficult.
The ideal approach to loading dock safety awareness combines frequent and comprehensive employee training with proactive maintenance. This ensures all workers know how to use equipment correctly, while the assets in question pose less risk of suffering an avoidable breakdown.
BETTER RESILIENCE AGAINST CHALLENGING CONDITIONS
Issues such as supply chain shortages can limit your ability to keep the loading dock running efficiently. During such times, waiting lists for new loading dock equipment can be long and unpredictable, and even aftermarket parts can become scarce.
When your loading dock doors and related assets receive proactive maintenance, there is less chance of a breakdown that would necessitate replacement or the use of hard-to-find parts. Keeping commercial overhead doors in good working order is at its most important when conditions are most demanding.
Having overhead door experts on call for both maintenance and emergency service is also a good way to cope with the annual pressures of peak season. An extended industrial dock door failure during such a busy season could not just slow logistics to a crawl at a crucial moment, but even pose an elevated safety risk.
LOADING DOCK DOOR CHECKLIST: HOW TO KNOW WHEN IT'S TIME TO UPGRADE
Is it time to move on from your current loading dock doors and refresh your facility's logistics readiness? The following questions can guide your decision.
Are your loading dock doors suitable for their purpose? Some buildings have never had top-quality industrial doors from the time of their construction. Replacement with more suitable hardware is the obvious solution.
How old are your dock doors and related equipment? While not every old door is necessarily unusable, aging assets may not be optimized to modern standards. Aggressive proactive maintenance or replacement may be in order.
What is the condition of your loading dock equipment? It doesn't take long for wear and tear to set in on loading dock doors and related equipment. You should frequently verify that your assets are not suffering from issues such as leaking seals or warped tracks and runners.
Do trailers fit correctly when loading or unloading? You may discover that either your doors are not the right size for your supply chain operations, or that it's time to change your loading dock seals, shelters or bumpers to better accommodate trailers.
Is your loading dock frequently wet or slippery? When your loading dock is exposed to the elements, employees and shipments can suffer. Loading dock shelters and seals can prove useful in counteracting this issue.
Are you struggling with affordably maintaining a consistent temperature? Loading dock doors that lose too much hot or cold air may require maintenance or replacement to help with energy costs or FSMA compliance.
Do your doors open reliably every time? Age, lack of quality or suitability, accumulated damage: There are numerous causes for unreliable operations. Loading dock door upgrades and proactive maintenance are useful countermeasures.