LOADING DOCK LEVELER OPTIONS FROM MINER
The loading dock leveler is an essential part of your facility's overall loading dock equipment. When your warehouse, distribution center or other commercial building possesses loading dock levelers that are suitable for their usage pattern, professionally installed and well maintained, your employees can engage in quicker and more efficient loading and unloading.
The key to successful performance on the loading dock is ensuring your levelers and other assets are indeed operating at high standards. By assessing your current loading dock equipment and comparing those assets to your needs, you can make strides in employee performance and safety awareness.
All of these equipment goals become more easily attainable when you have MINER as your expert facility partner. Our team of experienced consultants and technicians can help you implement the right loading dock leveler solutions for your needs and then keep the equipment in top condition for years to come, optimizing usable life and total cost of ownership.
WHICH TYPE OF LOADING DOCK LEVELER IS RIGHT FOR YOU?
One key to ensuring your organization gets maximum value from its loading dock leveler is to understand the differences between the various options and select an asset that suits your needs. This means ensuring the asset is strong enough to reliably hold the types of loads that will move back and forth across its surface. You also need to match the leveler's mechanism to your requirements.
When making these determinations, you can opt for a standard pit leveler in one of several variations, or choose a more specialized option such as a vertical leveler. Your choice should target specific needs on your loading dock such as temperature control requirements, or maximizing the usage of a limited amount of space.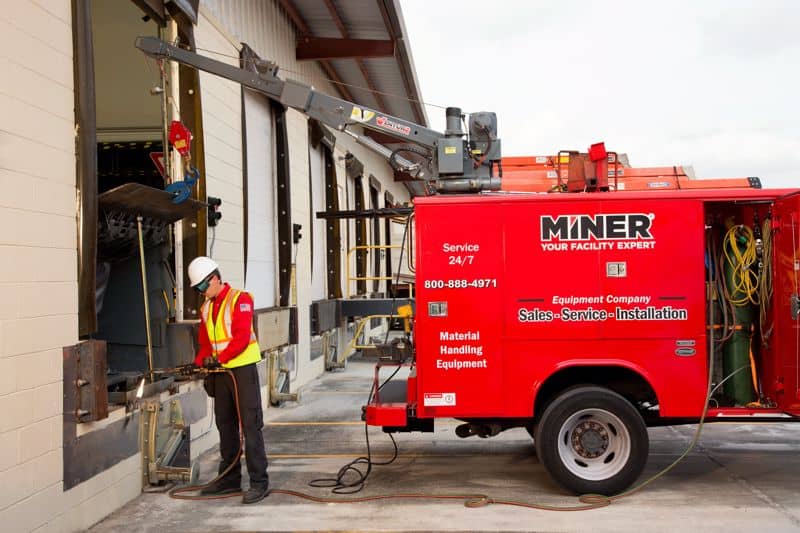 A pit leveler, which rises from a recessed pit at the lip of your loading dock to connect the facility entrance with a truck or trailer, is the industry standard at warehouses and distribution centers of all kinds. By creating a smooth path for workers and forklifts to traverse, these assets make up an essential part of smooth loading and unloading operations.
While all pit levelers work along the same general principles of rising from the dock and lowering into position, you have several options regarding the leveler power source and control type. By choosing between these models, you can select a method of operation that matches your needs.
A mechanical dock leveler is designed for maximum reliability and simplicity. This non-powered version of the pit leveler, based on a mechanism of chains, levers, gears and springs, has been a standby on the loading dock for decades. Operators walk on these docks, using their own weight to lower them into place bridging the loading dock lip and the truck bed.
Notable traits of a mechanical leveler include:
Ability to be installed on any loading dock with no need for power
Easy repairs because of the simple, mechanical construction of the assets
Lowest cost relative to powered pit leveler models
While a mechanical dock leveler is the right choice for simple operations, it may not be suitable for high-traffic areas. When there is frequent loading and unloading, it can be optimal to select a more efficient leveler model that does not involve so much physical exertion by employees as mechanical dock levelers tend to.
Hydraulic levelers are powered versions of pit levelers, and they are overall very similar to the standard mechanical dock leveler model. Workers do not have to pull a chain to raise the leveler or walk across its surface to lower it into place. These assets use power pack reservoirs embedded in the loading dock concrete. Some only have powered decks, while in other models both the deck and the lip run on the power packs.
Details of this leveler type include:
Various voltages of power packs to suit individual requirements
Multiple size options to fit any loading dock
Push-button controls to save work and exertion for loading dock employees
Though hydraulic dock levelers deliver convenience for employees, there are some scenarios in which they won't work. Namely, if there is no space or ability to set up a reliable power source, they are not the best option.
If your facility is seeking a powered pit leveler, a hydraulic dock leveler is not the only option available. More recently introduced pneumatic dock levelers, also called air-powered levelers or airbag levelers, use airbags to operate. These options draw less power than hydraulic models and their simple-to-maintain operational mechanisms make them uniquely well-suited to facilities that must be kept clean at all times.
The features of pneumatic dock levelers include:
Tough, reliable pneumatic airbags. Even when suffering minor punctures, these assets retain much of their pressure
Ability to run on the power from a single outlet at a much lower voltage than other options
Clean mechanisms that do not require oiling, especially helpful for complying with regulations such as the Food Safety Modernization Act (FSMA)
If your organization has the budget to upgrade from a standard legacy pit leveler, it can benefit from selecting a pneumatic leveler, especially in cases when compliance matters are important.
There is an option that goes beyond the standard pit leveler models. Vertically stored dock levelers enable the use of newer loading and unloading methods that support a greater level of temperature control. This is a critical consideration for organizations ensuring FSMA compliance.
These vertical levelers have traits including:
Reduced use of space to maximize movement room in smaller facilities
Compatibility with drive-through loading and unloading, supporting loading dock door sealing for effective temperature control
Between the multiple models of pit leveler and the vertical leveler option, your facility can implement the exact type of equipment for its needs.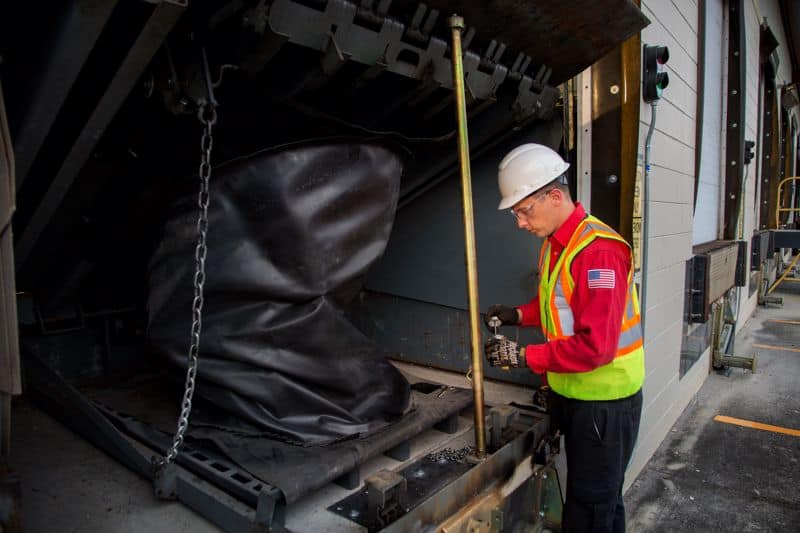 WHAT ARE LOADING DOCK LEVELERS' ROLE IN LOADING DOCK EFFICIENCY AND SAFETY AWARENESS?
Why is it so important to match your loading dock leveler to your needs? Because the correct asset will help you attain greater efficiency and safety awareness.
A degraded piece of legacy equipment could slow down supply chain speed and efficiency with costly downtime, while putting employees at risk of suffering a preventable accident
A loading dock leveler that is not of sufficient size or capacity for your facility's needs may always pose the same risk as damaged equipment, even if it is otherwise in good working order
The loading dock is the portal to your business, therefore loading dock ​leveler downtime has the potential to bring supply chain operations to a halt, leaving goods stranded either in the facility or on a truck. Every hour those loads wait, the company may lose thousands of dollars. If temperature control is required, spoilage is also a major risk.
The risk of an avoidable accident is even more pressing than supply chain disruption, as a single incident could lead to severe bodily harm. Whether employees are operating a forklift or moving goods on foot, they must be able to have confidence that levelers are receiving the best possible inspections and maintenance.
One potentially overlooked risk factor around levelers — and loading dock equipment of all kinds — is the chance that the assets installed when a facility was constructed may not be suited to their current usage pattern. This is especially important to check for if you are operating a warehouse or distribution center in a building that once served another role, such as being a retail store.
HOW CAN MINER HELP YOU INSTALL, SERVICE AND MAINTAIN A LOADING DOCK LEVELER?
The success you have with your loading dock leveler systems may depend on the facility partner you work with.
This is where your choice of loading dock equipment service organization will determine your experience. Creating a secure and reliable environment on a busy loading dock requires a comprehensive approach.
An all-encompassing strategy stretches from assessing your current loading dock equipment to selecting new dock levelers, installing the assets, carrying out proactive maintenance and providing loading dock leveler repair as needed. When a single, top-quality national equipment service partner is responsible for all these tasks, you can be sure each one is being managed to high standards.
MINER can make a positive impact on your operations, assisting in any or all of the following steps:
Assessing your needs: What is the current suitability of your loading dock levelers? What type of equipment is ideal for your company? You can answer these questions in consultation with MINER experts.
Simplifying the equipment service experience: MINER serves clients across the continent, giving you a consistent loading dock equipment service experience with a single contact representative, no matter how many facilities you operate.
Purchasing the right assets: Through relationships with top-quality equipment vendors across North America, MINER can supply the best loading dock leveler systems available today.
Leveraging economies of scale: As a large national equipment service provider, MINER can secure in-demand loading dock options and assets from original equipment manufacturers, even at times of supply chain slowdowns.
Installing equipment the right way: Having experts on hand during installation ensures your loading dock levelers are ready to meet their potential.
Developing a proactive maintenance strategy: Frequently updated suitability, age and condition assessments for all loading dock equipment can feed a proactive approach to maintenance, limiting downtime and avoidable failures.
Providing emergency repairs when needed: Even when ideal maintenance strategies are in place, equipment sometimes suffers downtime. MINER technicians are trained experts who travel with the gear they need to fix assets quickly.
Loading dock levelers are essential parts of efficient supply chain operations today — all the goods passing into and out of your facilities literally move over them every day. From the simplest dock lift to the most advanced air powered loading dock leveler, all your loading dock options are worth attention.The effort that goes into working on your levelers can be repaid in smoother operations on the loading dock.
To assess your current loading dock equipment, seek out new assets from top manufacturers or establish a maintenance and repair strategy for your busy loading docks, request a quote today.