Steel door installation and maintenance by MINER
Keeping your facility secure depends on the quality of the building's assets, especially your steel doors. The shutters on a retail window, the grille covering a parking garage door, the rolling steel door at a building's entrance — these all fall under the same category of metal door assets. 
Why use high-quality, carefully selected steel door assets in your facility? There are numerous reasons, including such important items as: 
Security from intruders and pests:

A tough metal door can prove too difficult for attempted thieves to breach, or for vermin to chew through

Protection against the elements:

Heavy shutters and doors that seal tightly can guard your merchandise and equipment against tough weather conditions

Temperature control and energy efficiency:

A subcategory of insulated steel door assets exists to make sure air stays inside the walls of your building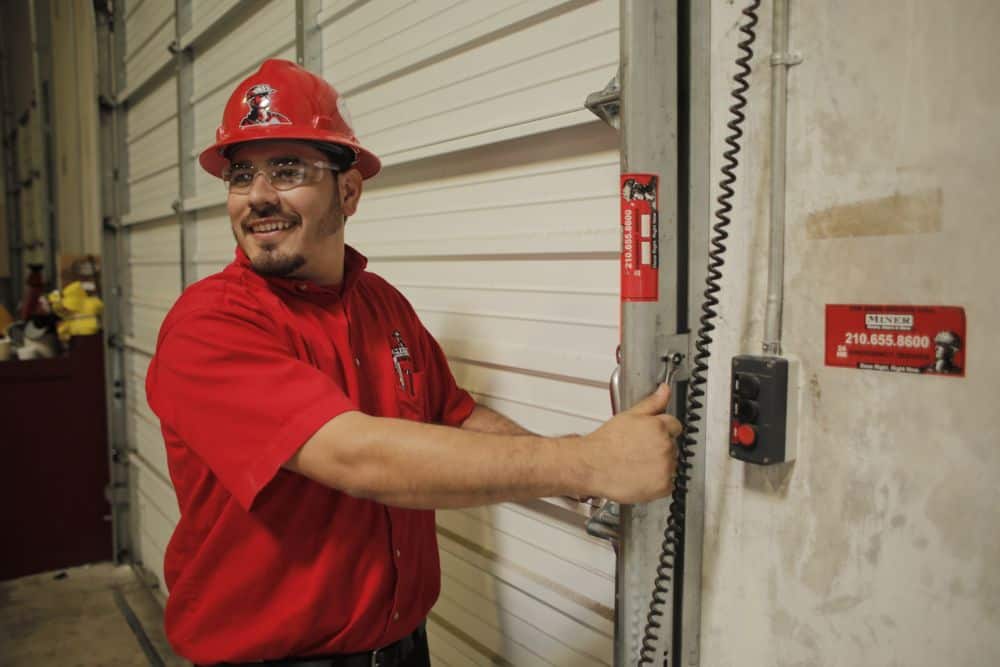 There's more to choosing, installing and maintaining a metal exterior door, grille or shutter than meets the eye.
First, you need to ensure you are getting the best possible steel door by assessing your needs and contracting an industry-leading manufacturer

Next, it's time to hire trained experts for the actual installation process to make sure the equipment works correctly from day one

Finally, you can keep your metal door systems in top condition over time with a combination of

proactive maintenance and emergency repair

strategies
While this seems like a lot of effort and attention to expend on simple doors, the important role of steel door, shutter and grille systems makes the investment worthwhile. These assets are the gateway to your building, and when they're performing at their best, your team reaps productivity and security benefits.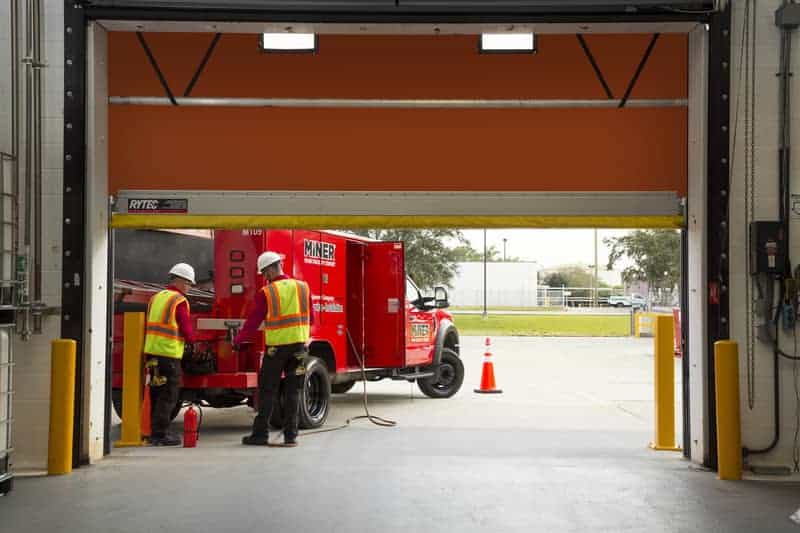 Types of steel doors for your facility
A number of different types of commercial door can be classified as steel door systems. Whether you're looking for an interior door, exterior door, security shutter, rolling grille or another type of track-based door, the same general rules apply.
The primary rule to follow is finding the right replacement door asset for you. Every use case is different and each facility is unique, so it pays to work with expert consultants from the very earliest steps in the hardware purchase and installation process.
Remember: Just because your facility came with a certain type of steel door, that doesn't mean it is perfect for your purposes. It's unfortunately common for buildings to have old door assets unsuitable for their roles, especially if the facility started out fulfilling another role. For example, a distribution center that was built as a retail store might lack suitable rolling steel door systems.
The following are a few of the metal door options companies can select today. One — or several — of these may be a perfect match for your building's needs.
Rolling steel door
A rolling steel door is the perfect asset class to protect your building against everything from the elements to break-in attempts. When working with MINER's network of top nationwide vendors, you have access to high-quality rolling steel door assets, delivering toughness and reliability.
These assets are available in a variety of door frame sizes, up to 60 feet wide by 40 feet high. The doors come in heavy-, medium- and light-duty weights, to ensure you can match your new door to your building's specific environmental and usage requirements.
The helical torsion springs that power rolling steel doors are built to stay in use through 25,000 cycles. There are even tougher high-capacity springs available, which are recommended for a steel door that will experience constant opening and closing.
With computer-matched counterbalance systems, rolling steel doors from Miner move smoothly along their tracks for year after year of operation. An optional motor operator allows safe and responsive opening and closing at the push of a button. For example, an entry door used hundreds of times a day is perfectly suited for automated opening, potentially tied to a motion sensor.
If your main objective for installing a new rolling steel door is to protect the facility from tough weather conditions, you can select a steel entry door with an especially high wind load application.
Whichever specifics you choose from weight, size and operational perspectives, you can finish your steel door with a customized look that suits your building's aesthetic and color scheme. This creates a professional exterior look that inspires trust in your products and services.
Rolling metal grille
A rolling metal grille is the perfect asset to lock and protect a facility during off hours. These assets can serve in a variety of roles:
Closing buildings that are open to the elements, such as parking garages

Acting as an extra layer of protection in front of a glass commercial door

Serving as the main security door for units within an enclosed space, such as in in malls, shopping centers, banks and airports
Through a nationwide vendor network, MINER offers both rolling and sliding grille assets. The right piece of equipment for a given application depends on how much headroom is available above the door frame. Every door installation is customized for customer needs and the space involved.
Small frame security grille assets can be opened easily by hand. There are several manual, mechanical methods to open these grilles, including push-up, chain and crank options.
In other situations, you can save work for your employees, or help them open and close larger frame steel grille assets, with a motorized automatic opener. When using a grille as a garage door, an automatic opener linked to a sensor can operate the door when a car approaches.
The security grille systems available through MINER are light enough for employees to work with them by hand, but strong enough to prevent thieves, vandals or other intruders from entering the premises.
As with rolling steel doors, grilles' appearance can be customized to suit the overall exterior look of your facility and create a feeling of professionalism.
Metal security shutter
A metal security shutter operates on the same principle as a rolling steel door, but covers a smaller area of a wall, such as a food service counter, a customer service desk or a retail shop front. These can be on the outside wall of a building or inside, as in cafeteria settings.
These shutters are made from galvanized steel and designed to be strong enough to keep intruders from causing damage. They operate on the same principles as full-size rolling steel door options, meaning manual opening or automatic mechanical operation.
Depending on the frame measurements in the installation area and the available headroom, steel shutters can be implemented on rolling or sliding tracks. Each customized installation is designed to suit the purpose and setting of the shutter.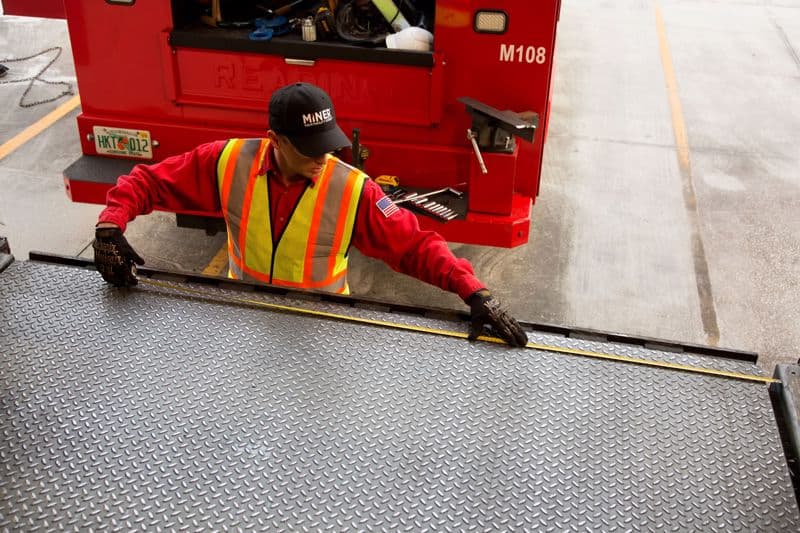 The value of effective steel door installation and maintenance
A steel door, grille or shutter that is installed correctly by professionals is able to provide years of reliable service, while a less carefully installed asset may experience rough opening and a shorter usable life. MINER technicians take your facility's unique requirements into account to ensure you have the perfect equipment for your needs, installed to the highest of standards by trained door contractors.
Even the best door installation can't be a "set and forget" process, however. Your organization should make sure to implement a proactive maintenance strategy based on a careful and comprehensive survey of every asset's suitability for its role, age and current wear status.
Providing timely proactive maintenance for a steel door over the years can keep it reliable and effective for thousands of cycles. This means workers will be able to proceed with their day-to-day tasks unimpeded. Unexpected downtime affecting a steel door can bring retail or logistics operations to a halt, potentially costing thousands of dollars in lost productivity.
Employee safety awareness also depends on having reliable equipment in place. Your workers need to count on the fact that assets will hold up under daily strain and allow them to do their jobs effectively, without the added risk that comes from a reactive-only maintenance approach.
With MINER on your side, every part of the steel door acquisition process can be smooth, from needs assessment to selection, installation, maintenance and even emergency repairs in the event of a breakdown.