Warehouse Steel Door Installation and Maintenance from MINER
Durable steel doors are critical for ensuring the security of your premises, guarding against intruders, pests and the elements.
The steel door category encompasses several distinct types of assets, from rolling steel doors to metal shutters and grilles for use in a distribution center, a parking garage, a retail store or more standard warehouse space.
The selection, installation and maintenance of these doors by trusted professionals can keep them in top condition for reliable operation and performance, year after year.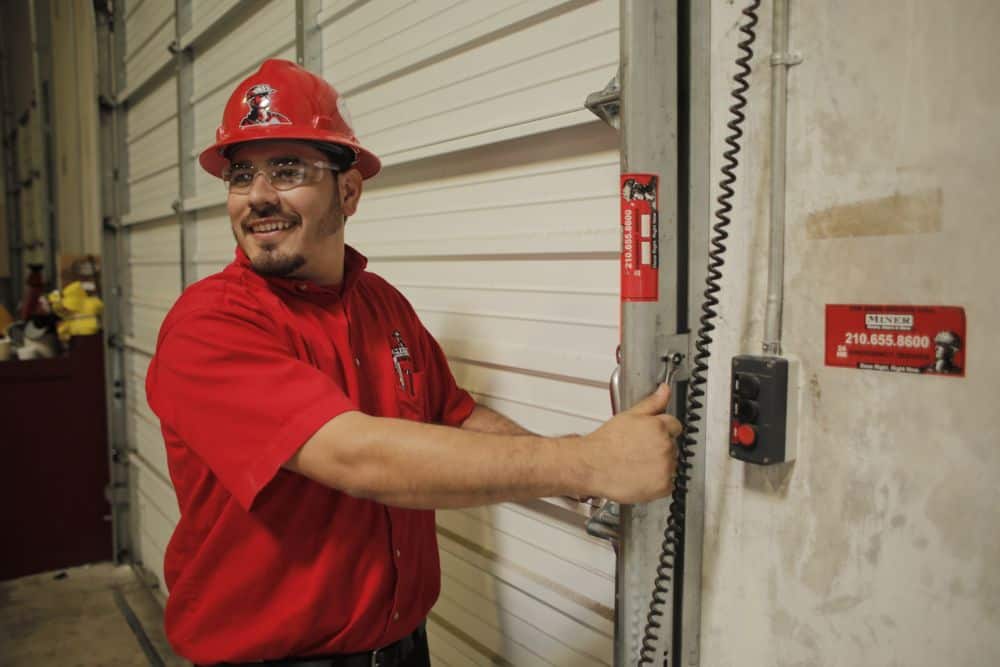 What Are Steel Doors For?
Steel doors are the barrier between your building and the outside world. They keep your warehouse or other facility secure, especially during off-hours. These assets' roles include:
Keeping out intruders and pests: A tough metal door can discourage thieves from attempting to breach your building, and steel can prove impossible for vermin to chew through.
Protecting your building against the elements: Heavy shutters and doors that seal tightly can prevent wind, rain and snow from harming your merchandise or equipment.
Aiding with temperature control and energy efficiency: Insulated steel doors can keep air inside your building, which can save money on heating and air conditioning.
To make sure your facility has the best possible experience with its steel doors and achieves optimal total cost of ownership, it's worth turning to skilled professionals for your service needs. There's extra value to be added at every step of the process of selecting, installing and maintaining this commercial door hardware.
The ideal process for getting the most out of steel door assets includes:
Selecting the best door for your use case: This means assessing your needs and then determining which original equipment manufacturer (OEM) is the ideal fit in terms of price and performance.
Working with experts on the commercial door installation process: Installing doors correctly keeps them performing effectively for months and years to come. Factory-trained technicians can help you reach this level of performance.
Performing proactive maintenance over time: Maintenance services for your warehouse doors can get ahead of potential issues and minimize the chances of unplanned downtime due to failures.
Having emergency repair services on call: Not every breakdown can be prevented. To cut down on the costly service interruptions that stem from steel door failures, it's important to have highly trained technicians ready to provide emergency repairs.
While this level of focus may seem excessive for something as simple as steel doors, there's real value in achieving reliable service from these assets. Commercial steel door installation and maintenance services play essential parts in achieving strong, lasting performance.
What Are Your Steel Door Options?
There are a variety of commercial door options that all fall under the general category of steel doors. Each of these types has a distinct role to play in the smooth running of your commercial building. They include:
Rolling Steel Door
This kind of durable door is the perfect choice to protect your facility against everything from the elements to intruders. You can choose from a variety of steel door frame sizes, up to 60 feet wide by 40 feet high. The doors are available in heavy- medium- or light-duty weights, allowing you to match your new asset to your needs. Extra high wind load application doors are especially useful for guarding against weather.
The helical torsion springs powering rolling steel doors are built to survive 25,00 cycles. There are even tough high-capacity springs available for doors that will open and close constantly during the day. Rolling steel doors from MINER move smoothly along their tracks, aided by computer-matched counterbalance systems.
These doors are available with automated opening systems and a customized finishing treatment to suit the overall look of your commercial building and keep your space looking professional.
Rolling Metal Grille
You can keep your facility secure during off hours with a rolling metal grille. These assets can:
Close off buildings that are open to the elements, like parking garages.
Act as extra protection in front of a glass commercial door.
Serve as the main security door for units within enclosed spaces, such as malls, shopping centers, banks and airports.
MINER offers both sliding and rolling metal grille equipment through a nationwide OEM network. The right choice depends on factors such as available headroom. There are several opening methods, ranging from manual, mechanical opening to push-up, chain and crank options.
To save your employees work — or allow them to open large frame steel grille assets, you can choose a motorized automatic opener. In a garage, this can be linked with an automatic opener sensor to allow cars to pass. As with rolling steel doors, you can customize your grille's appearance.
Metal Security Shutter
A metal security shutter is similar in principle to a rolling steel door, but is smaller, covering an area such as a food service counter, customer service desk or retail shop front. You can install these on the exterior of your building or the interior, as in a cafeteria.
These shutters are made from galvanized steel and designed to be too strong for intruders to damage. Depending on the size and intended use of your shutter, you can opt for manual or automatic opening, and choose between rolling or sliding tracks.
What's the Value of Effective Steel Door Installation and Maintenance?
A steel door, grille or shutter installed by professionals can provide years of reliable service, for better total cost of ownership than one with less effective installation. After the expert-led commercial door installation process, you can't take a "set and forget" attitude. It's important to keep up with your assets' roles, ages and current wear status.
That data can inform your proactive maintenance program, providing the insights necessary to perform checks and repairs on the commercial door hardware that can prevent unexpected failures and costly downtime. With this level of maintenance, doors can remain reliable for years and thousands of cycles, providing a safer environment for your employees and smoother operations.
Why Choose MINER for Steel Door Service?
With MINER on your side, every part of the steel door acquisition and operation process is smooth. As a national service provider, MINER works with industry-leading OEMs across the country, and can serve your steel door selection, installation, maintenance and repair needs whether you operate one warehouse or hundreds.
Our factory-trained technicians can match new door systems to your exact needs. This can be very relevant when a commercial building's existing door assets aren't up to commercial standards.