COLD STORAGE DOORS FOR YOUR FACILITY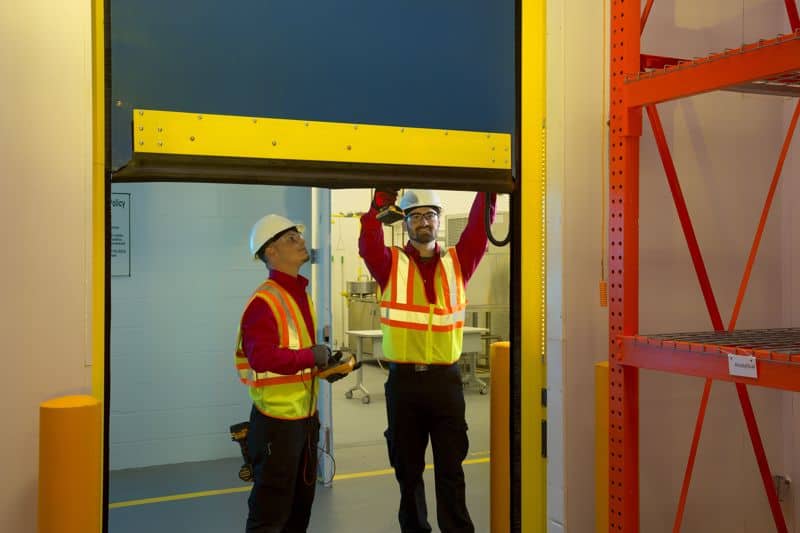 For reasons ranging from regulatory compliance to energy efficiency, maintaining effective temperature control should be a high-priority effort for your facility.
Cold storage doors, both internal and external, play an important role in cold-chain strategies. Your decisions from equipment selection to installation, maintenance and emergency repair arrangements therefore carry weighty consequences.
THE IMPORTANCE OF COLD STORAGE
The many roles played by cold storage doors will vary somewhat by industry and type. Whether your organization deals in pharmaceuticals, food, petrochemicals or even fresh flowers, you may find value in having top-quality temperature control systems and assets. Uses for cold storage doors include:
Regulatory compliance: The Food Safety Modernization Act (FSMA) and similar laws require organizations to implement comprehensive environmental control measures. In addition to protecting goods from contamination by pests or the elements, you must maintain a reliable cold chain.
Energy efficiency: By preventing temperature-controlled air from escaping, cold storage doors take pressure off of refrigeration and air conditioning assets. When these energy-consuming mechanical systems aren't as heavily used, your organization's power bill can decrease significantly.
THE ROLE OF COLD STORAGE DOORS IN THE COLD CHAIN
Temperature control systems designed to maintain a FSMA-compliant cold chain consist of several assets, but cold storage doors have an important role to play among these other technologies. In addition to monitoring and communication solutions designed to ensure compliance and keep records for regulators,
today's facilities
also require thermostats, compressors, evaporators and more. Keeping all these technologies working consistently and at peak efficiency is essential, not just to reduce the chances of a noncompliant temperature fluctuation, but also to prevent related hazards such as the build-up of melt water. The role of cold storage doors is to prevent other systems from going to waste. A non-optimized cold storage door that lets too much air escape, either due to insufficient seals or through a slow opening and closing motion, introduces avoidable risk and cost into the cold chain.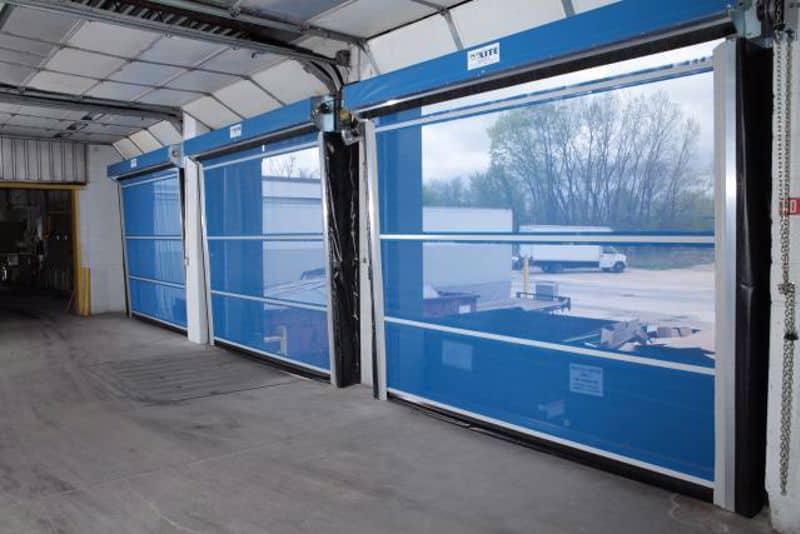 TYPES OF COLD STORAGE DOORS
Just as there are multiple situations that call for
temperature control systems
, you have numerous options for temperature control doors in your facility and on your loading dock. Selecting the right asset is simply a matter of matching its traits to your requirements. The following are the primary categories of heavy-duty insulated door assets and related freezer and cooler door options available from MINER:
HIGH-SPEED SLIDING COOLER DOOR AND FREEZER DOOR SYSTEMS
Equipped with variable-speed motors to enhance their
dependable performance
and long-lasting durability, sliding doors come in many sizes to ensure compatibility with your particular freezer or cooler cold storage area. Optional windows provide visibility, helping workers avoid collisions with powered vehicles or one another. Closed-cell foam panels prevent these doors from requiring defrost systems, and seals around the edges prevent heat loss. An Arctec high-speed sliding door requires only 23 inches of head clearance. These doors have an R-Value of 12 and are designed to withstand a forklift impact with minimal damage.
HIGH-SPEED FOLDING COOLER DOOR AND FREEZER DOOR SYSTEMS
Folding doors open on a roller and track assembly. These doors combine full visibility with strong impact resistance. With strong insulation around both their vertical seams and their edges, these assets are designed to form a tight seal against cold air leakage. As with sliding doors, folding doors are meant for internal use. Fast-Fold
high-speed folding doors
, mounted on Tec-Trak rollers, are equipped with pre-wired defrost systems and can open at 7 feet per second.
INSULATED LOADING DOCK DOORS
Insulated
loading dock doors
are important for keeping goods cold during loading and unloading and preventing the leakage of temperature-controlled air. An insulated door panel system, coupled with seals around the assets' edges, ensures they do not allow heat to enter the ecosystem while they are closed.
Loading dock shelters
and loading dock seals deployed around your facility doors create a temperature controlled passageway between a truck and the building. This helps maintain the cold chain and keeps energy efficiency high. A good seal and shelter can also act as protection against pests and the elements. Advanced modern facility design is increasingly incorporating a drive-through model with trucks pulling directly into the building for better temperature control.
INSTALLING AND MAINTAINING COLD STORAGE DOORS
As with any system in your facility, cold storage doors can't function at full effectiveness if they are unsuitable for their task, installed poorly or not
maintained to high standards
. By working with MINER as your facility partner, you can ensure all these tasks in consultation with industry experts, while also securing the services of trained technicians for emergency repairs to minimize downtime.
Specialty doors
working correctly are facilitators of efficiency, allowing personnel and goods to pass unimpeded into and out of the temperature-controlled areas of your facility. Avoidable breakdowns and downtime undermine these optimized operations, making it important that you invest in the upkeep of your assets. Selecting a suitable cold storage door from a top vendor is the first step in upgrading your temperature control systems. Next, you must work with experts to
install the chosen asset
, ensuring everything from seals to opening mechanisms is working as intended. Once the cold storage door is in place, a proactive maintenance strategy will ensure it is checked frequently, optimizing total cost of ownership by guarding against avoidable breakdowns and providing up-to-date records of its suitability, age and wear. Finally,
emergency repair services
get assets up and running if downtime does occur, keeping your operations moving.