GET YOUR LOADING DOCK SEALS AND SHELTERS WITH MINER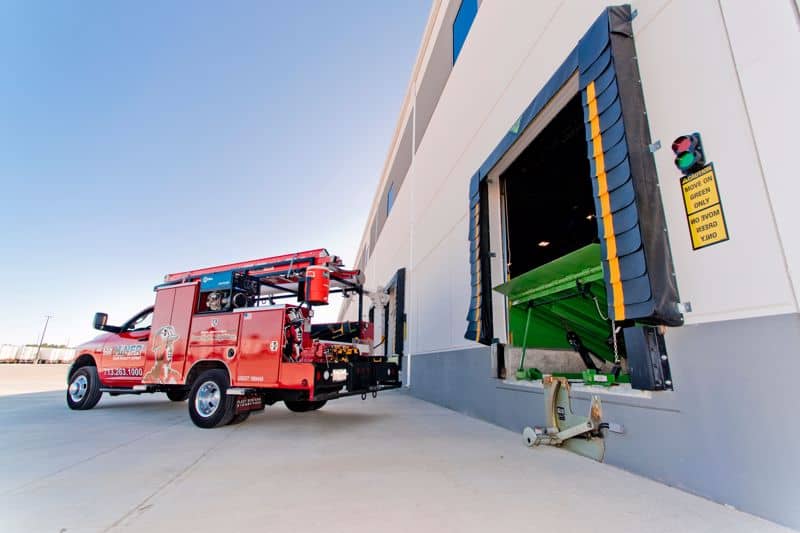 The loading dock is the heart of your facility's logistics processes, which makes it essential that you select high-quality assets for every piece of loading dock equipment. This includes potentially overlooked or underrated features such as loading dock seals and loading dock shelters.
When you're designing safe, fast-moving supply chain processes for your warehouse and distribution center facilities, you can't afford to overlook loading dock seals and shelters. These assets keep workers and shipments safe from the elements while loading and unloading each truck that arrives at the loading dock. Having the correct seals and shelters for your purposes is especially important for temperature control purposes.
Legislation including the Food Safety Modernization Act (FSMA) has clarified the steps companies should take to prevent temperature changes, pests and other elements from contaminating their shipments. Creating a compliant supply chain that lives up to these standards may depend on the installation and maintenance of the right dock shelters and seals.
MINER can be your partner for all steps of the loading dock seal and shelter upkeep process, from selecting the right product from a top vendor to installing the asset correctly and performing proactive maintenance to keep it in top condition.
LOADING DOCK SEALS: STYLES AND OPTIONS
Every loading dock area is different, defined by factors such as the speed and size of shipments and the necessary temperature and environmental controls. Selecting loading dock seals that will fit your circumstances is an important part of creating a safe environment that also promotes efficiency.
The following are some of your primary options for loading dock seals when working with MINER. MINER can deliver the perfect match for your logistics needs by working with the providers of the highest-quality assets across North America.
V-Seals are made of various colors and types of fabric and work with doors up to 9 feet wide and 10 feet high. The purpose of a V-Seal is to completely fill the gap between the trailer and loading dock door, ensuring that openings such as hinge gaps don't let the elements in while also allowing workers to move unimpeded.
As with the V-Seal, the DS "Tuf-Steel" series is designed for doors up to 9 feet by 10 feet. These assets are made with steel construction in place of wood to help them have a longer usable life span than similar seals.
'WEARMASTER' SLIDING HEAD PAD
Having the right head pad system installed around your loading dock doors is a good way to protect your building from damage when trailers are guided into place. The "Wearmaster" series of sliding head pads is meant for long usable life in harsh conditions and moves up to 6 inches to compensate for slight truck movement during unloading.
'L-SHAPED' LOADING DOCK SEAL
To add more space for efficient and easy loading and unloading, you can install "L-shaped" loading dock seals with side pads. These pads are designed to prevent damage to facility walls in case a trailer pulls up at an angle. As with the V-Seal, these seals are available in many materials and colors of fabric. "L-Shaped" loading dock seals are available for doors up to 10 feet wide by 12 feet high.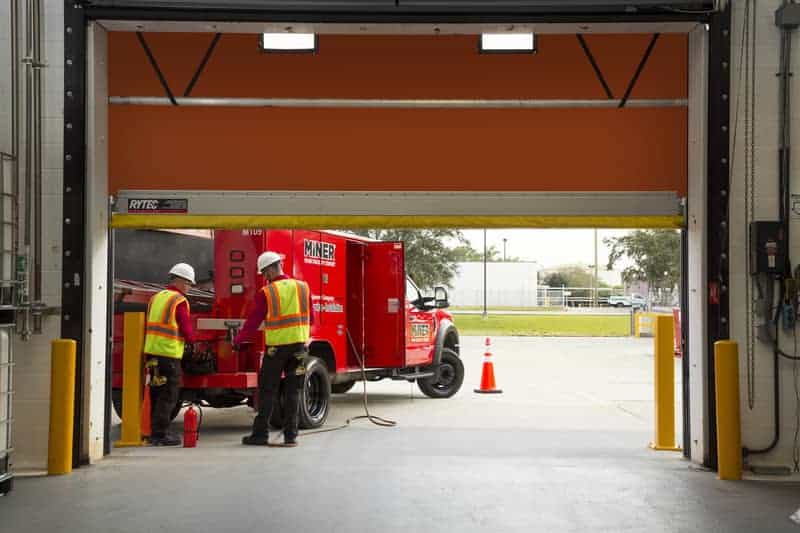 LOADING DOCK SHELTERS: STYLES AND OPTIONS
While loading dock seals are designed to close the small gaps between trucks and your facility, loading dock shelters are larger canopies that keep loading and unloading operations safe from the elements. This can be especially helpful during tough weather conditions but is useful at all times, promoting safety awareness among workers and guarding shipments against contamination.
The following are the three primary types of loading dock shelter available through MINER, manufactured by top equipment providers throughout North America.
RIGID-FRAME LOADING DOCK SHELTER
A rigid-frame dock shelter is a versatile loading dock asset, meant to accommodate multiple sizes and types of doors. These loading dock shelters are made from galvanized steel frames, with panels of fiberglass on the top and sides letting light in. The fabric that covers these shelters is available in several colors. When such a shelter is in place, personnel have full width and height access to trailers.
The defining feature of a flex-frame shelter is its greater resistance to impact. These loading dock shelters frames fold when they suffer an impact, such as from a truck that approaches the door off-center. In other ways, flex-frame shelters offer the same functionality as rigid-frame assets.
A rail shelter extends on three or four sides of trailers, providing a greater degree of temperature control during the loading and unloading process. These are ideal shelter options for companies seeking to increase the energy efficiency of their environmental systems and comply with regulations such as FSMA.
SERVICES AROUND LOADING DOCK SEALS AND SHELTERS
Getting the right loading dock seals and shelters for your facility begins with determining whether your current assets are suitable for their purpose and in good working order. Facilities are often constructed without adequate loading dock equipment, making it up to the operator to upgrade to high-quality assets.
If your current equipment is not up to standards for your industry, you can work with MINER to select new loading dock seals and shelters from top vendors. Expert technicians will install the assets to ensure they work without issue. Misalignment can result in damage when trailers pull up to the loading dock.
Once loading dock equipment is installed, it's important to put maintenance policies in place to ensure wear and degradation don't lead to downtime. A seal or shelter failure could cause safety risks to employees and disrupt the supply chain.
The ideal approach to repairs on the loading dock involves a proactive maintenance program based on accurate, frequently-updated surveys of every asset. Companies with functioning proactive maintenance strategies can reduce their need for emergency repair services by up to 50%, thus avoiding the added risk and slowdowns that come from avoidable equipment failures.
When timely repairs are needed, MINER can help with these services as well. Our trained expert technicians travel with the equipment they need to get the loading dock area running again as quickly as possible.
The overall purpose of modern loading dock equipment is to enable supply chains to new heights of safety and efficiency, leading to overall benefits for companies. Loading dock seals and shelters, by providing a secure environment on the loading dock, are a major if potentially overlooked part of these efforts. By partnering with MINER, you can make sure these assets are delivering peak value.