INDUSTRIAL DOOR REPAIR FROM MINER
No matter the type of commercial door your facility uses, keeping these assets in good working order is an essential part of maintaining day-to-day productivity. From maintaining safety awareness to keeping the cold chain intact, a good industrial door strategy has many important roles.
A costly and time-consuming bout of unplanned downtime due to a stuck or malfunctioning commercial door could stop goods from entering or exiting your facility on schedule, throwing all related processes off their timetables as well.
WHAT ARE THE PRIMARY TYPES OF COMMERCIAL DOORS?
The main types of commercial door eligible for service repair and installation by Miner Service Professionals comprise sectional and rolling steel doors. Each of these has its own ideal use case and purpose. If you're setting up a new facility or undertaking a major renovation, you should consider the ideal doors for your purposes. If you already have doors of either kind in place, you have to consider the best practices to repair those doors and keep them in top condition.
A sectional door, also known as an overhead door, is versatile and can fulfill a variety of functions for your business. You can use a sectional door as a commercial garage door or dock door for a busy supply chain facility. Steel sectional doors come in multiple gauges of steel, and are available on numerous track styles. The paneling on a steel door can be made of glass, plastic or painted metal to suit your building's appearance. Insulated sectional doors are also available for more environmental protection.


Service technicians can protect these doors against potential issues such as slight gaps in the doors or damage to their tracks or cables. Doors that don't receive proper upkeep may begin to drift or become stuck.
Full-scale rolling steel doors are a top option if your facility needs a secure and high-performance commercial door solution. There's a great deal of flexibility regarding the size of these doors – the door frame can be up to 60 feet in width and 40 feet in height with a standard configuration. When you have a new rolling door installed, it comes with a computer-matched counterbalance and an optional motor operator for ease of use. Subtypes of rolling doors include rolling grilles and security shutters for windows.
Common types of damage that may afflict rolling doors include damage to individual sections or slats of the doors. Rollers may go missing and tracks can bend over time, while springs and cables are also susceptible to breakage. Doors that suffer this damage may be impossible to secure or become stuck in either the open or closed position.
WHY IS COMMERCIAL DOOR MAINTENANCE SO IMPORTANT?
There are numerous reasons to keep your facility's commercial doors in top condition, and to give adequate attention to every step, from installation to everyday maintenance and emergency repair. A single preventable problem could be costly and cause lasting damage. The following are just a few of the most important motivating factors for your company:
Think about all of the valuable assets in your warehouses, distribution centers and related commercial building facilities. From inventory and equipment, to intellectual property and more, there is plenty to protect. Exterior door weakness could compromise all of these elements of your business. For peace of mind during off hours, doors must be of sufficient quality.
MAINTAIN ENVIRONMENTAL CONDITIONS
If your organization has to maintain a cold chain for perishable food or other temperature-sensitive goods, having the correct doors be well installed and maintained should be a high priority. Both internal and external doors should be checked frequently to ensure their seals are secure, as too much escaping air could significantly increase your temperature control spending.
PREVENT SUPPLY CHAIN DISRUPTIONS
Commercial doors are the gateway to your business, and an equipment failure could have serious repercussions up and down your supply chain. Whether your organization is a manufacturer, a distributor, a retailer or plays any related logistics role, you cannot afford to have your loading dock shut down for an extended period of time due to dock door trouble. Your hardware should receive frequent inspections, with a technician constantly on call in case an unexpected failure occurs.
What Industrial Door Repair Options Does MINER Offer?
There is no 100% guaranteed way to guard commercial overhead door equipment from downtime. This means facilities should work with commercial door service providers that offer multiple types of assistance This can range from emergency service in the wake of a breakdown to advanced, data-based proactive maintenance.
When you choose MINER, maintenance and repairs come from a national equipment service provider with coast-to-coast reach, the best technicians and the ability to handle every step from door installation to day-to-day upkeep. These steps include: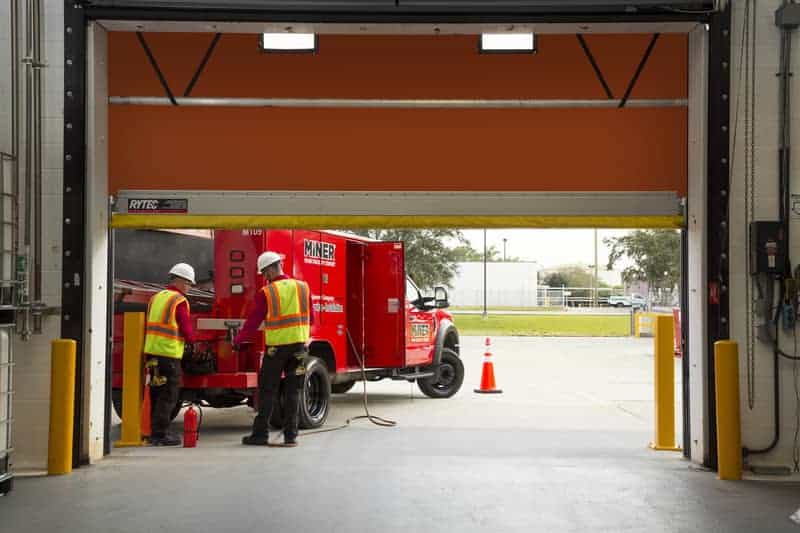 SAME-DAY EMERGENCY SERVICE
If you don't want to incur the costs of installing new commercial doors before their predicted usable lifespan has elapsed, your best bet is to invest in services that will keep your equipment operating in top condition. Same-day service from Miner is an indispensable door repair option for your facility.
Repair technicians equipped with the most common replacement parts in their vehicles are available to get your equipment working again with minimal disruption and downtime. These personnel are Miner Academy trained to service commercial doors from multiple original equipment manufacturers and of many descriptions. Miner Academy materials are also available for internal personnel so they can take care of some maintenance tasks themselves.
The ideal service and repair option for your facility's assets, commercial doors included, involves minimal unplanned downtime. To prevent the need for reactive service, you can invest in proactive care for your essential equipment.
Preventative maintenance involves inspections to ensure every asset is in compliance with regulatory standards, as well as OEM specifications. Industrial door assets are graded on their suitability, age and current condition. The plan is customized to suit your organization and its commercial doors.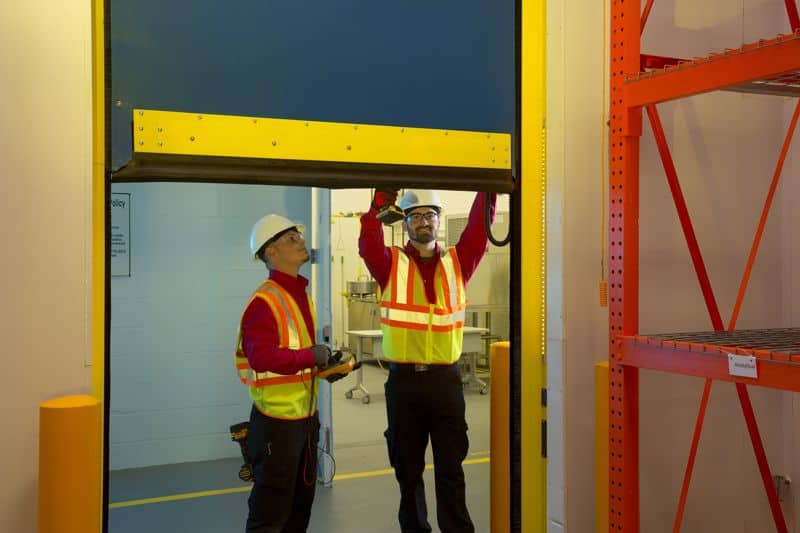 Ready for a national equipment service provider?
To keep your industrial door systems — as well as everything around them — in top condition, you should choose MINER as your all-in-one partner. MINER's national scale enables strong relationships with original equipment manufacturers, so your facility will get priority access to replacement commercial door hardware, aftermarket parts and more.
To give your organization access to the best-trained technicians, highest-tech equipment and the most comprehensive, data-based maintenance strategies, partner with MINER as your overhead door company of choice.
Learn more about commercial doors or request a quote.