SECTIONAL DOORS INSTALLED AND SERVICED BY MINER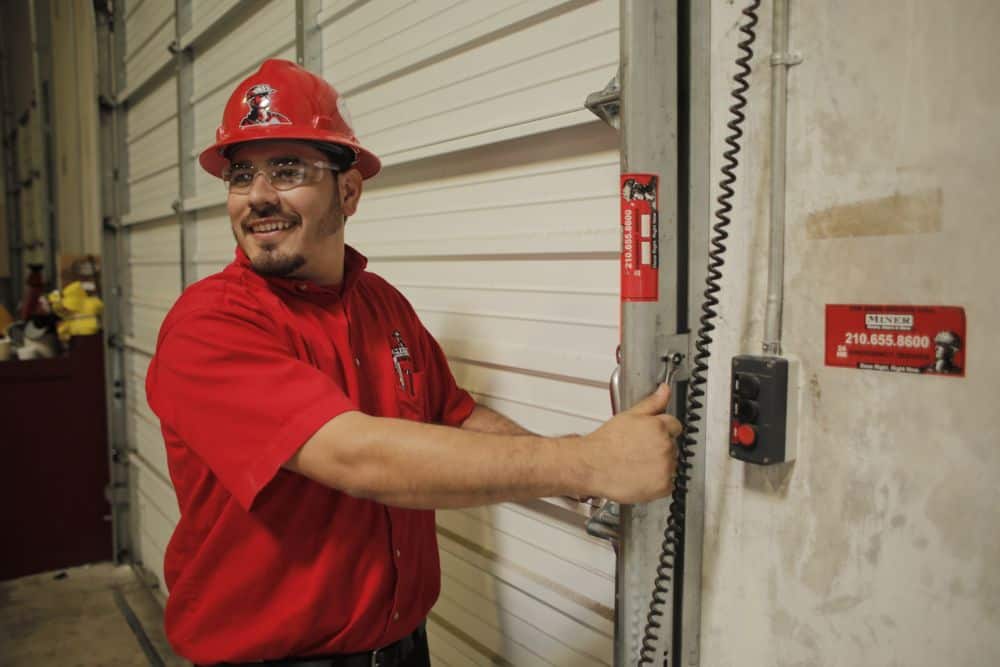 When ensuring your warehouse, distribution center or other commercial facility is reaching up to its full potential, you have to think about its commercial doors. While sectional doors may resemble home garage doors, you have options to ensure these assets match your needs.
From exterior panel style to insulation and opener type, there are plenty of sectional overhead door components for you to customize. With the right equipment service partner on your side, you can optimize each of these variables.
Commercial door assets are the gateways to the building, and if you have the right equipment in place, you can enable quick and effective movement of people and goods. When your sectional doors are not well chosen or don't receive adequate maintenance, however, problems can result.
SECTIONAL DOORS AND RELATED EQUIPMENT
When assessing your current sectional door equipment and determining whether a replacement is in order, it pays to think about your options. 
Commercial garage door selection
 should reflect the type of goods that pass through your facility as well as the expected frequency of use. The following are the primary categories of sectional door equipment offered by MINER.
STEEL SECTIONAL DOOR OPTIONS
Sectional steel doors are designed to last, with their metal construction delivering extreme durability — and a superior usable life when compared to consumer-grade panel doors. These doors are designed to be both safe and stylish, and MINER offers them in the following configurations:
Sizes up to 32 feet wide and 24 feet high
16, 20 or 24 gauge steel door construction
Exterior panels made of glass, plastic or painted steel
Optional wind-load rated or thermal-efficiency models
These are a type of overhead door, and they can open on curved tracks that operate with as little as 18 inches of headroom. Alternately, if your facility is taller, they can open fully vertically. By choosing the right combination of size, opener and panel type, you can receive sectional steel doors that suit the way your facility operates and the type of work that occurs on your loading dock.
INSULATED SECTIONAL DOOR OPTIONS
If your facility has to meet demanding temperature control requirements — for instance, if you are maintaining a strict cold chain to comply with the 
Food Safety Modernization Act (FSMA)
, insulated doors can help your efforts succeed. At any facility that uses heating or air conditioning, 
installing insulated commercial doors
 is a way to save money on heating and cooling costs, as these doors retain heat or cold. Features of these insulated door assets include:
Sizes of up to 30 feet wide and 24 feet high
Multiple thicknesses of steel plating
A variety of colors to match your facility's exterior
As with standard sectional steel doors, insulated doors operate on a variety of track styles to accommodate the amount of space within the facility. When these doors are used for loading and unloading, they should be paired with loading dock seals and loading dock shelters to further minimize the loss of air and boost the 
thermal efficiency of their panel insulation
.
INDUSTRIAL DOOR OPERATOR SYSTEMS
Depending on how you use your commercial garage doors, you can select one of a number of heavy duty door opening mechanisms. There are viable use cases for the following options, all available from MINER:
Manual chain hoists: These hand-operated door openers are a good option for facilities that don't have much interior space, and they are budget-friendly. The downside is that employees' physical exertion will be needed whenever the door opens.
Motor operators: Installing a push-button operator for your sectional doors is a positive for safety awareness, as workers have to exert themselves less. This system is beneficial when the door needs to open and close frequently.
Master control units: A centralized control panel for multiple motorized assets in the loading dock area, including sectional door operators, lets personnel gain more visibility over the status of the whole facility. This can be especially useful when keeping a close eye on door status for temperature control or building security purposes.
Whatever your chosen model of sectional door, it's important to work with facility experts who will assess your needs, connect you with the top equipment vendors and install every asset correctly. Taking these steps helps you get maximum total cost of ownership value from your sectional doors.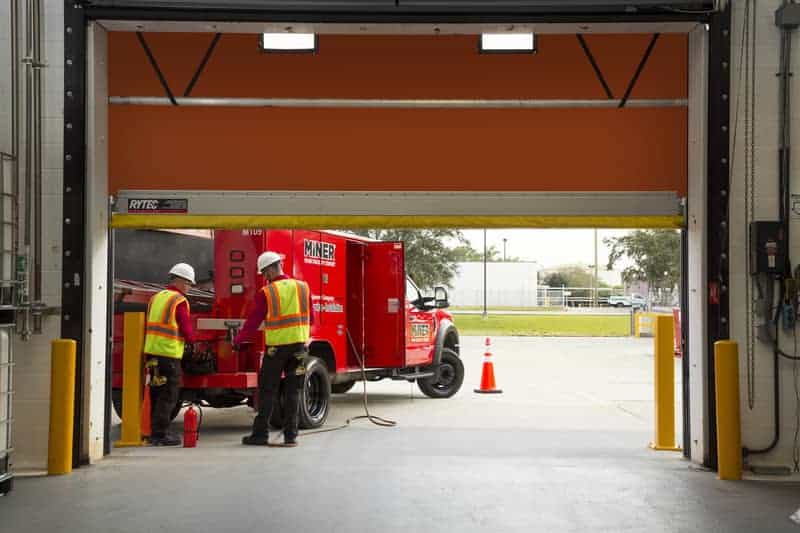 MAINTENANCE FOR COMMERCIAL SECTIONAL DOORS
Selecting suitable overhead sectional door assets for your facility's needs and installing them correctly are important steps in maximizing the return on your equipment investment. Without attentive maintenance, however, these efforts can fall short of their goals of extreme durability and reliability for your facility. A single equipment failure affecting a sectional door can lead to increased risk for employees and costly downtime for the facility.
The ideal approach to industrial door maintenance is to be proactive. Frequent assessments and monitoring of the suitability, age and condition of each asset can help personnel get ahead of potential issues, minimizing the chance of an avoidable accident and helping to optimize total cost of ownership.
The value of proactive maintenance for commercial garage doors comes from the importance of these portals. If one of your facility's sectional doors is unusable for any extended amount of time, the effect on productivity will likely be costly. Even more urgent than the expense is the physical risk of suffering an avoidable failure — every incident is dangerous for employees.
While proactive maintenance can resolve many cases of downtime for your rolling steel doors, there will inevitably be times when emergency service is needed to repair a fault and get the overhead door moving again. You should work with MINER as your trusted overhead door company, responsible for both advance maintenance and expert repairs on short notice.
A SAFE, EFFICIENT LOADING DOCK ENABLED BY SECTIONAL DOORS
Getting your facility running at peak efficiency means having the correct equipment in place, and sectional doors are an important part of the puzzle. With the right sectional overhead door providing reliable service for thousands of cycles, deliveries can take place on schedule. This keeps the whole supply chain moving and prevents your logistics operations from coming to a costly halt.
With that said, your current overhead door configuration might have room for improvement. Your facility's present equipment may be suffering from the effects of age or wear and tear. There is also the possibility that current assets were never suitable for their purpose in the first place, especially if the building originally served another purpose before being converted for your needs.
Well-chosen, professionally installed and attentively maintained steel sectional doors can deliver benefits such as:
Efficient movement of goods enabled by automatic door opener systems
Reduced temperature management costs because of effective insulation
A more professional appearance for the exterior of the building
Security against intruders, pests and the elements due to tough steel door construction
Whatever your industry or location, there is a facility door option that will fit your needs. When you work with MINER for some or all of your sectional door purchase, installation and maintenance processes, you gain the benefits of unparalleled experience and expertise, as well as connections with top equipment manufacturers. Request a quote today to get started.