Dock Leveler Repair from Miner
As logistics operations speed up and your company's supply chain becomes more streamlined, it's important to ensure your loading dock equipment is able to handle the faster pace.
Loading dock levelers that bridge the gap between trailer and loading dock are indispensable pieces of equipment. Therefore, loading dock leveler repair is an essential part of an overall maintenance and upkeep strategy due to the central role these assets play in safe and efficient loading and unloading.
A leveler that fails due to insufficient maintenance or unsuitability for the type and amount of goods move across is a major safety risk for employees. Even if no one is hurt, the resulting supply chain disruption from such an accident could incur immense costs. Alternately, installing the right type of loading dock leveler for your needs and keeping it in top condition is a good way to build a next-generation supply chain.
With MINER as your facility partner, you have access to end-to-end loading dock leveler solutions, from initial purchase and installation to ongoing maintenance for new or existing assets.
Loading Dock Leveler Options
Loading dock levelers are not all the same, and the first step in creating your maintenance and upkeep strategy should be inspecting your current equipment and determining whether the assets are suitable for your company's intended use. Many facilities are not built with loading dock equipment that is truly sufficient for heavy use, especially when those structures were converted for warehouse use rather than purpose-built.
The following are the main types of dock levelers, each of which may fit your organization's logistics needs, depending on the amount and type of goods that have to move into and out of your facilities.
A mechanical leveler has long been the industry default. The movable platforms are controlled by a series of levers and gears. By pulling a chain, the loading dock worker frees the leveler, then uses body weight to lower the deck into place, bridging the gap between the lip of the dock and the trailer.
A mechanical leveler brings simplicity and reliability to your loading dock area. There are no electronic elements and the construction is all based on simple mechanical principles. No matter what kind of loading dock you operate, with or without easy access to a power source, you can use a mechanical leveler. Furthermore, this is often the lowest-cost dock leveler option.
A hydraulic loading dock leveler works on the same general principle as the mechanical leveler, folding up from the loading dock to bridge the gap with the trailer. The difference is that these are powered by hydraulic motors and don't require the same level of interaction from workers. In some fully powered hydraulic models, the whole deployment process is automated. Others still require workers to extend the lip mechanically.
The power sources for hydraulic dock levelers — power packs installed near the loading dock — are available in multiple voltages. Given the number of size and voltage options you can easily match these assets to your facility's requirements.
If you are interested in the simplicity of a powered dock leveler but don't have the space to install a specialized power supply, pneumatic loading dock levelers may represent the perfect option. These assets are relatively new, and designed to work on lower voltages than hydraulic levelers, requiring only a single power outlet.
Pneumatic dock levelers operate using durable airbags, and there are several models available to ensure you can match the performance of the leveler to the volume and velocity of goods that will have to move over it. Since pneumatic loading dock levelers do not require oiling to operate effectively, they can naturally help with sanitation around your facility.
Loading dock leveler repair and employee safety
Once you have selected a dock leveler option that matches your intended use case, it's important to keep the equipment in top condition at all times. This is because a damaged or worn loading dock leveler is a danger to every person who has to move across it.

A loading dock leveler collapse involving a worker — whether on foot or operating a forklift — has the potential to seriously harm that individual and others in the area. Companies that focus on safety awareness and creating an optimally safe loading dock area can see numerous benefits.

Since an accident has operational consequences in addition to the pain and suffering it inflicts, there is no conflict between safety and your bottom line. The safest loading docks are also the most financially sound, and all top facility operators work in this safety-first mode.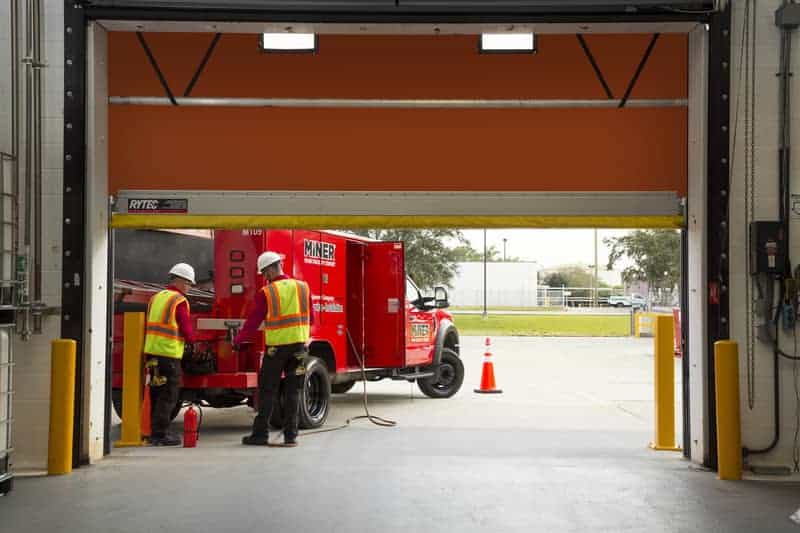 The supply chain impact of loading dock leveler repair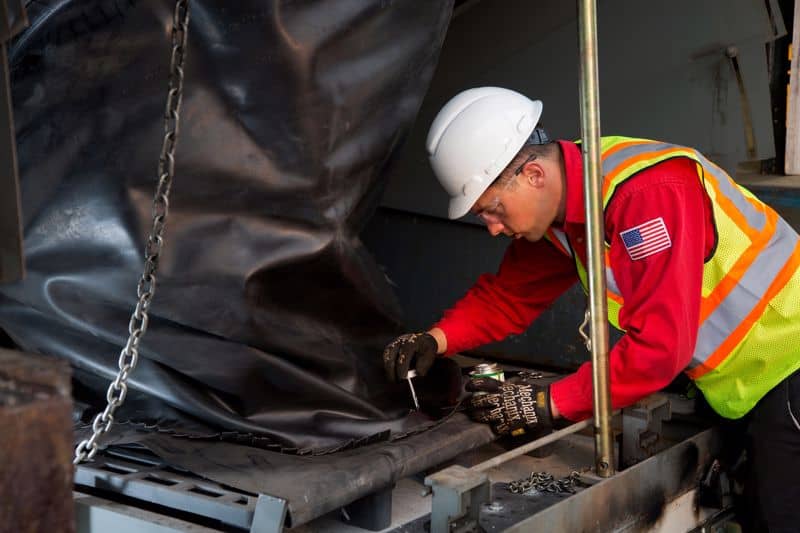 Loading dock equipment does not have to cause harm to an employee to have a negative effect on the company's operations. Equipment downtime, even when no one is hurt, can incur thousands of dollars or more in lost revenue in a relatively short span of time. Inability to load or unload goods at a loading dock because a loading dock leveler has broken down may seriously compromise a fast-moving modern supply chain.
The massive expense associated with downtime highlights the importance of both emergency loading dock leveler repair services and proactive maintenance strategies designed to cut down on the need for those nick-of-time repairs. Both types of programs should be overseen by trained facility experts with the right equipment to ensure the job is done quickly, correctly and completely.
The value of proactive loading dock leveler repair
A proactive maintenance strategy designed to minimize the chance of avoidable accidents and reduce downtime begins to pay dividends the first time a potential breakdown is averted. A comprehensive approach to keeping your loading dock levelers and related equipment in top condition relies on interrelated elements: effective surveying and proactive maintenance that reflects the surveys' findings.
Cutting-edge safety and productivity surveying today is based on measuring the suitability, age and condition of each asset in the loading dock area and keeping records up to date. These comprehensive measurements help facility owners track the total cost of ownership of each piece of loading dock equipment and schedule proactive maintenance that will optimize efficiency and can prolong the usable life cycle of assets.
Proactive maintenance is based on identifying areas that are the likeliest sources of potential problems, rather than waiting for an asset to fail. Taking this approach to loading dock leveler repair can help keep your facility safe, efficient and clean. Unplanned maintenance should always be a last resort. A successfully implemented proactive maintenance program can reduce these emergency repairs by up to 50%.
MINER can be your ideal loading dock leveler repair partner, no matter what step of the process you begin your engagement. Our consultants and trained facility experts are available to assist with selecting the correct, highest-quality assets for your exact needs, installing that equipment and creating an ongoing proactive maintenance strategy.
Given the pivotal role of the loading dock leveler in connecting the links of the modern supply chain, these assets should be a central part of your repair and maintenance plans.