Loading Dock Plate Repair and Installation
Loading Dock Plate Services: Installation, Maintenance and More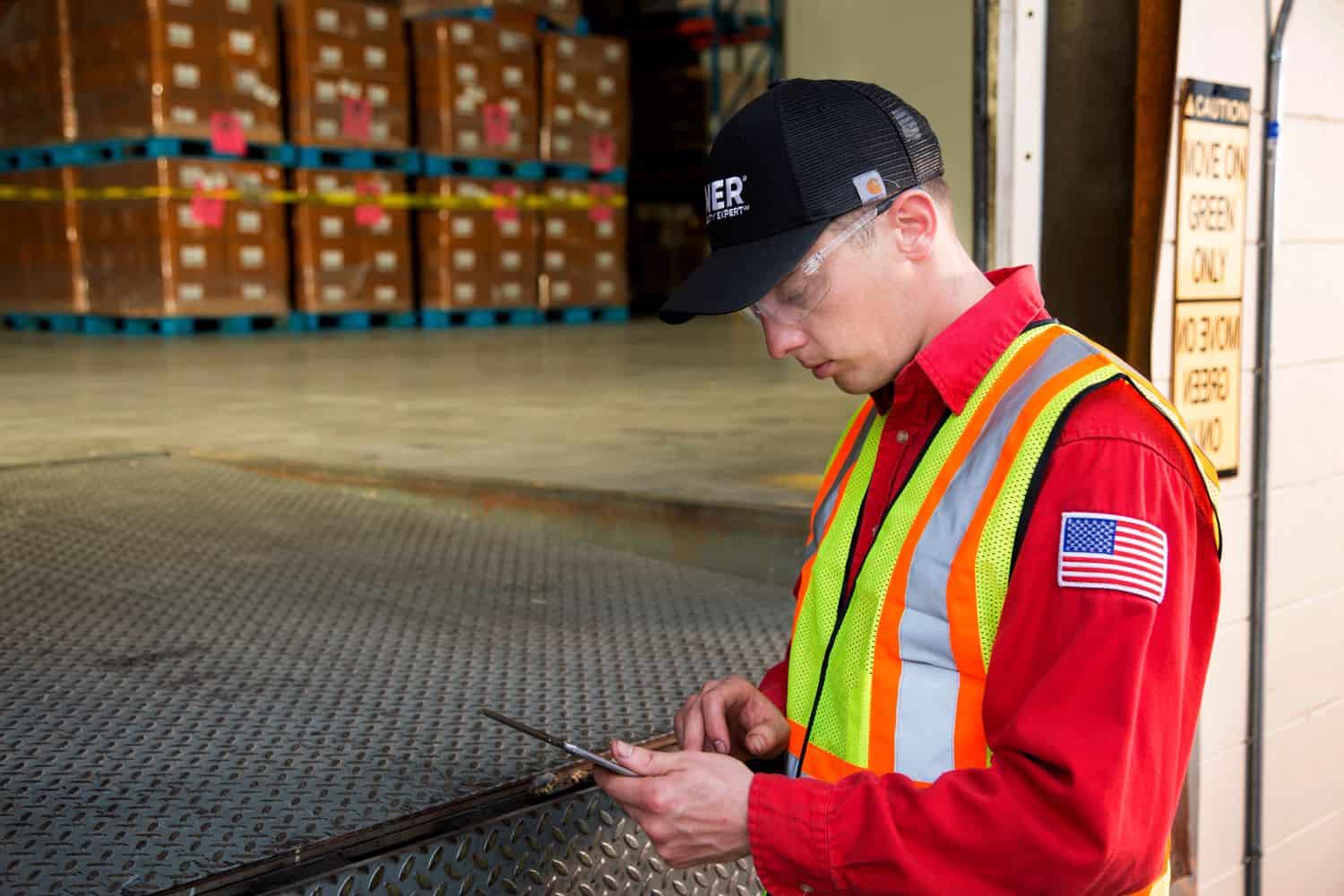 Some pieces of loading dock equipment can end up going overlooked, with negative effects on the overall safety and efficiency of your warehouse or other facility. Loading dock plate systems fall into this category. Equipment from the best vendors, installed correctly and maintained well, represents a major improvement over unsuitable or worn systems.
By focusing on your dock plate and loading dock leveler assets, you can deliver a better experience for your employees, with positive effects that ripple up and down your whole supply chain. To reach this level of performance, it's worth focusing on multiple phases: equipment selection, professional installation, proactive maintenance and emergency repair.
What Are Your Loading Dock Plate Options?
A loading dock plate is a standard piece of equipment at any warehouse, distribution center or other commercial building. It's a simple asset, bridging the gap between a loading dock lip and a truck or trailer bed. Those vehicles are held in place by related gear — dock bumpers and vehicle restraint systems.
A loading dock plate should have sufficient capacity to keep your employees safe and productive as they move heavy loads across its surface. Whether a worker is on foot, pushing a hand truck or driving a forklift vehicle, the dock plate should bear their whole weight without strain.
To determine the right dock plate option for your commercial facility, you can ask a few questions:
Does this loading dock plate meet my needs? The size and weight of your chosen steel loading dock plate should reflect its intended usage. This encompasses the types of loads your employees will be carrying, as well as whether they'll be using powered forklift trucks.
How old is the current loading dock plate and what is its condition? Your current loading dock equipment may not be meeting your needs. This is especially common when a facility has been converted from one role to another — for instance, retail store to warehouse.
Would a mechanical dock leveler be more suitable? A manual dock plate isn't the only option for carrying goods out of trucks. A mechanical or hydraulic dock leveler cuts down on the need for manual labor, and today's pit-based mechanical dock levelers don't need much space.
Your answers to these questions will help you settle on a dock plate that can make your loading dock a safer and more reliable place to work.
What's the Safety Impact of Loading Dock Plates?
Effective loading dock plates can keep your employees more secure and efficient in their everyday tasks. In fact, the Occupational Safety and Health Administration (OSHA) mentions loading dock plate safety in its guide to forklift operations.
Especially when paired with effective maintenance and loading dock repair services, these dock accessories can cut down on unplanned downtime and delays.
Extra safety considerations around loading docks include:
Use of vehicle restraint systems: While upgrading your loading dock equipment, it pays to add vehicle restraints. Wheel chocks are the minimum when it comes to securing trucks and trailers. Systems integrated directly into the dock are superior from a safety perspective.
Effective handholds for easy lifting: At facilities without mechanical dock levelers, employees move dock plates into place by hand. Those plates must have sufficient handles, so they're safe and easy to lift and carry.
Sufficient anchors for dock plates: Placing a loading dock plate in place should be a repeatable process, supported by the right supplemental assets and equipment. These include anchors to prevent the plates from sliding while people or vehicles are on them.
As a facility operator, you should also ensure all your employees are adequately trained in the use of dock plate systems, so they have the knowledge to work safely on these assets, day after day.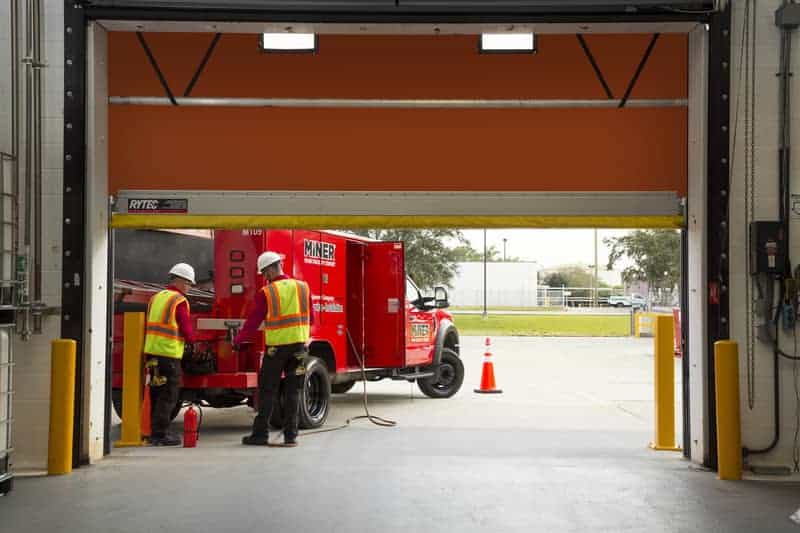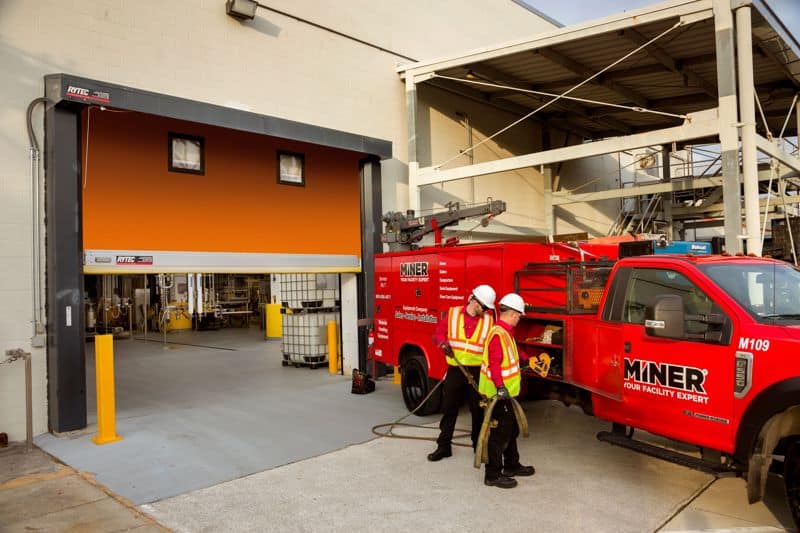 What Loading Dock Plate Services Are Available from MINER?
MINER provides an all-encompassing service for loading dock plate assets, helping your organization use this equipment more effectively. These offerings include:
Equipment selection: Choosing the right assets for your facility is essential, as the wrong gear can lead to danger or inefficiency. MINER works with a variety of top original equipment manufacturers (OEMs) around the country to ensure each commercial building gets the right fit.
Professional installation: Factory-trained technicians from MINER are available to install a complete suite of loading dock equipment, including dock plates and related assets like loading dock bumpers, dock seas and dock door systems. Effective installation sets the assets up for thousands of cycles of reliable operation.
Proactive maintenance: Even more so than standard planned maintenance offerings, a data-based proactive program from MINER can defend against unplanned downtime and unexpected failures. Gilded by analytical insights, crews can give their attention to the assets that need it.
Emergency loading dock repair: When you need dock plate repair service immediately, MINER's trained technicians are ready to help. These professionals travel with the tools and parts needed to provide comprehensive loading dock service on a short timeline, minimizing downtime and getting your supply chain up and running.
The right combination of expertise and high-quality dock accessories can help your loading dock run smoothly. Since all shipments flow through this part of your facility, the effects on your overall productivity are considerable.
MINER is a leading national service provider, able to fulfill multiple loading dock service roles for your organization. Whether you operate one facility or hundreds of warehouses across the country, MINER is able to step in, providing a single point of contact and connections to multiple leading OEMs.
Having a reliable partner organization to provide your loading dock plate equipment is a must for today's organizations, considering the important role these seemingly simple assets play in employee safety, logistics efficiency and more.