Loading dock plate installation and maintenance
The efficiency and safety of your facility's loading dock area depend on the suitability, quality and condition of the loading dock equipment you have in place. This includes the loading dock plate, board and leveler systems. Although these simple warehouse equipment assets are easy to overlook, they are absolutely critical — a failure could lead to danger for your employees or, at the least, costly downtime for your supply chain.
With MINER as your facility partner, you can optimize any and all aspects of your loading dock plate usage. This means:
Correctly maintained loading dock plate systems point the way to safe, efficient loading and unloading operations. This means you should commit to reviewing and potentially upgrading these assets as soon as possible.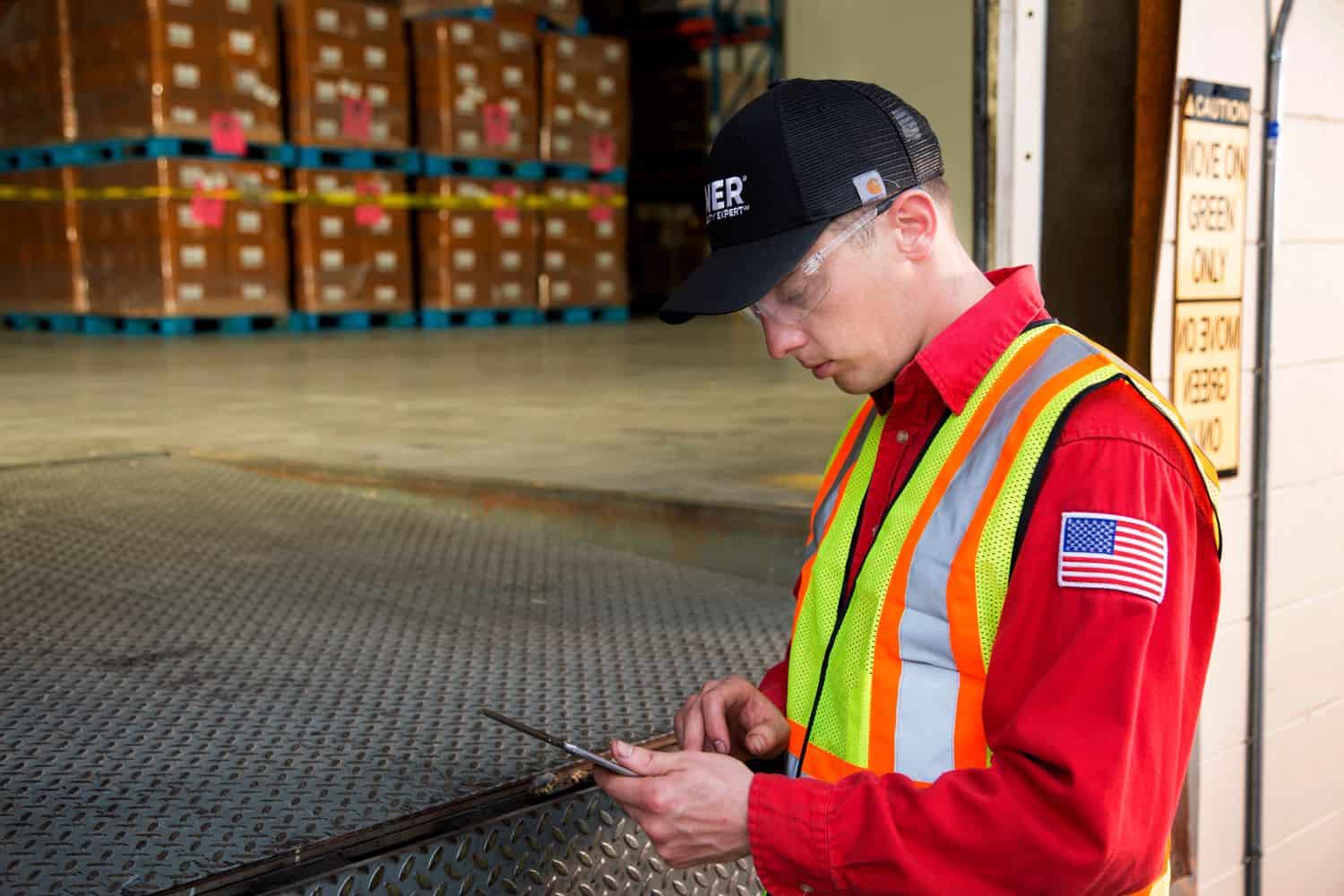 Loading dock plate options
Loading dock plates are standard equipment in warehouse and distribution center facilities, providing a bridge between the loading dock lip and the bed of a truck or trailer while the vehicle is held in place by dock bumpers. A loading dock plate should have sufficient capacity to keep employees safe and productive during loading and unloading, whether a worker is on foot, pushing a hand truck or operating a forklift vehicle.
Ensuring that you don't just have these assets, but that they are the correct ones for your purposes, is an important element on any facility owner's checklist. It's time to ask yourself a few questions:
Is this loading dock plate sufficient for my needs?: The size and weight of a steel loading dock plate in use on a dock should reflect the intended usage of the asset, including the capacity it's expected to hold. Will people be traveling across on foot, or will they be driving forklifts? How heavy are the loads that will be carried? Is the plate the right size to be a bridge between the loading dock door and truck beds? Facilities converted from retail space to warehouse use are especially likely to have insufficient equipment in place for logistics operations.
How old is the loading dock plate and what is its condition?: Good facility maintenance and upkeep means keeping tabs on every asset in the building. When there is clear and frequently updated data on loading dock equipment, it is easier to plan proactive maintenance and prevent downtime. While a loading dock plate is a simple machine without moving parts, it is still susceptible to wear and tear and not exempt from inspections.
Would a mechanical loading dock leveler be more suitable?: If your facility is seeking to accelerate supply chain operations, it may be time to invest in a loading dock leveler instead of a plate. This cuts down on the need for manual labor, especially if you select a hydraulic dock leveler or powered loading dock leveler instead of a conventional mechanical dock leveler. Today's vertical loading dock leveler systems take up less space than traditional pit levelers and enable loading dock doors to close and seal tightly, making them work in a wide variety of situations.
There is one further element of loading dock plate design that should be addressed separately, because it is the most important: employee safety. Considering that workers pass over loading dock plates every day, sometimes carrying heavy loads or operating powered forklifts, it's easy to see how an equipment deficiency or failure could lead to an accident.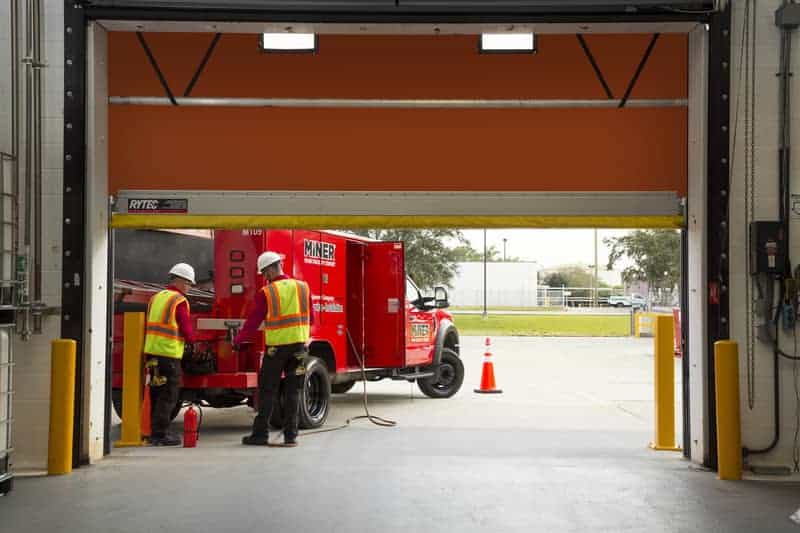 Loading dock plate safety
Loading dock plate safety relies on the same best practices as general loading dock equipment selection: You have to ensure the assets are suitable for their purpose and well maintained. Increasing safety awareness and cutting down on avoidable accidents around the loading dock are top priorities when operating a warehouse, and creating a safe environment depends on the upkeep of every piece of loading dock equipment.
The Occupational Safety and Health Administration maintains regulations around loading dock plate safety as part of its guide to forklift operation safety. In addition to specifying safe practices for truck loading and unloading, the OSHA-improved guidelines include some equipment requirements, such as:
Use of vehicle restraint systems: Every truck that pulls up to the loading dock needs to be held in place by specialized equipment. While wheel chocks are the minimum, many loading docks are upgrading to truck restraint systems integrated directly into the loading dock for greater safety. Semi trailers loaded or unloaded without trucks present may also need jacks to balance their weight.
Safe ways to lift loading dock plates: If employees move loading dock plates and boards into place by hand instead of deploying mechanical loading dock levelers, those plates need to have handles or other handholds to ensure they are easy to pick up and carry.
Sufficient anchors for loading dock plates: Putting a loading dock plate or board into place should be done carefully, and personnel must have access to equipment to prevent the assets from sliding while people or forklifts are moving across them.
In addition to making sure loading dock equipment is up to high standards, facility supervisors should make sure they have adequately trained each employee in the best practices associated with their roles. Even the best assets can be undermined by an operational mistake.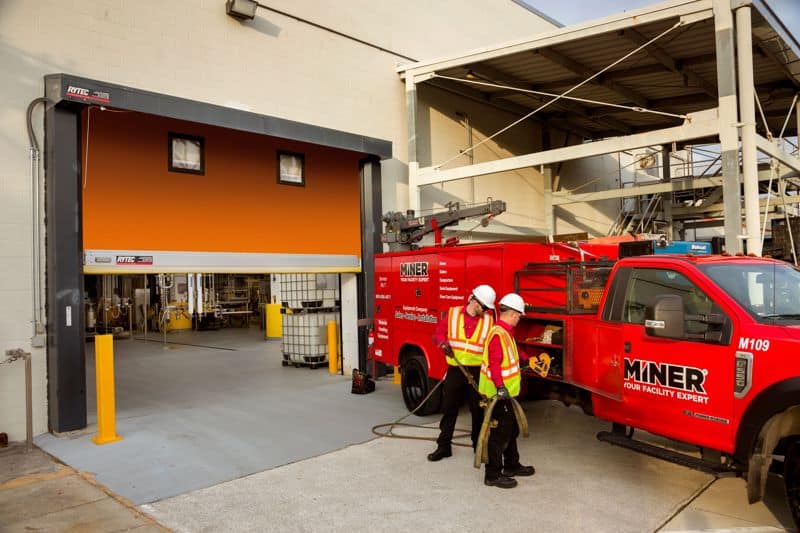 Installation, maintenance and repair for loading dock plates
Selection and installation of loading dock warehouse solutions should be a major priority for any organization that engages in truck-based logistics operations. From a loading dock ramp to a mechanical dock leveler or anything in between, your chosen loading dock equipment should come from leading original equipment manufacturers, be installed by experts and protected by comprehensive maintenance and emergency service plans.
Choosing MINER as your national equipment service provider means gaining access to the top loading dock plate and loading dock leveler solutions from the best OEMs. MINER's status as a high-volume buyer means your organization will get priority status when in the market for new warehouse equipment.
Furthermore, MINER professionals ensure all warehouse equipment is installed correctly, to set you up for loading and unloading success. When loading dock ramp, board, plate and leveler assets are installed by professionals, safety awareness and overall efficiency can improve.
Your loading dock area is at its best when protected by a comprehensive, proactive maintenance strategy. By incorporating the findings of regular surveys, you can ensure assets are being treated with sufficient attention and care to keep it in top condition.
A single loading dock plate failure can lead to devastating injuries, making it clear that these pieces of equipment belong as part of your maintenance strategy, alongside more complex and mechanical assets. As long as loading dock plates and levelers remain in working order, they are key enablers of safe and fast-moving loading and unloading; work cannot proceed without them.
In case an asset does suffer downtime, your maintenance strategy should include the option of emergency repair service. When you work with MINER, you gain access to trained, experienced technicians to resolve loading dock equipment issues quickly and completely. This is the necessary complement to proactive maintenance, though taking better care of your equipment can reduce unplanned repairs by as much as 50%.
If you're ready to comprehensively inspect and inventory your warehouse equipment, optimize your current loading dock plate solution or begin picking new equipment, request a quote today.