Loading dock design for safety, compliance and efficiency
The loading dock is one of the most critical areas of your warehouse, distribution center or other commercial facility. When your building has a well-equipped and actively maintained loading dock, it becomes easier to sustain regulatory compliance, safety awareness and overall supply chain efficiency.
On the other hand, a loading dock without suitable equipment, or one that has been allowed to fall into disrepair, can pose a serious risk to your efficient operations. Loading and unloading are crucial processes for keeping logistics operations moving, and downtime affecting loading dock assets can have reverberations up and down the supply chain.
How to counteract common loading dock issues
Taking a more active approach to loading dock design and upkeep is one way to support positive outcomes for your whole organization. If you have not previously inspected your loading dock area closely, you may be surprised to find unsuitable or poorly installed equipment or signs of wear and tear.
It is relatively common for buildings to not have the highest quality loading dock equipment by default. If your facility was originally designed for a role such as retail, it may not be prepared to support the sheer traffic volume that comes with full-scale logistics operations around the warehouse dock.
By partnering with MINER, you can give your loading dock the attention it deserves. MINER can assist at any or all stages of the loading dock design and improvement process, from collaboratively selecting high-quality assets and installing them to maintaining and repairing that equipment over time.
As a national equipment service provider, MINER can take care of critical design details and use its large geographic reach and skilled staff to deliver positive outcomes for your loading dock. This may mean:
Installing essential truck restraint systems and implementing best practices to improve safety awareness.
Creating dock seal solutions to maintain the cold chain.
Maintaining equipment to boost efficiency.
…or any number of other approaches.
The following are a few of the individual areas of loading dock performance to keep in mind when addressing this important area of your building.
Loading dock design for FSMA compliant operations
The Food Safety Modernization Act (FSMA) has codified and clarified the rules around maintaining secure, hygienic supply chain operations. If your company's goods fall under the act's purview, these regulations should be top of mind when making loading dock design decisions.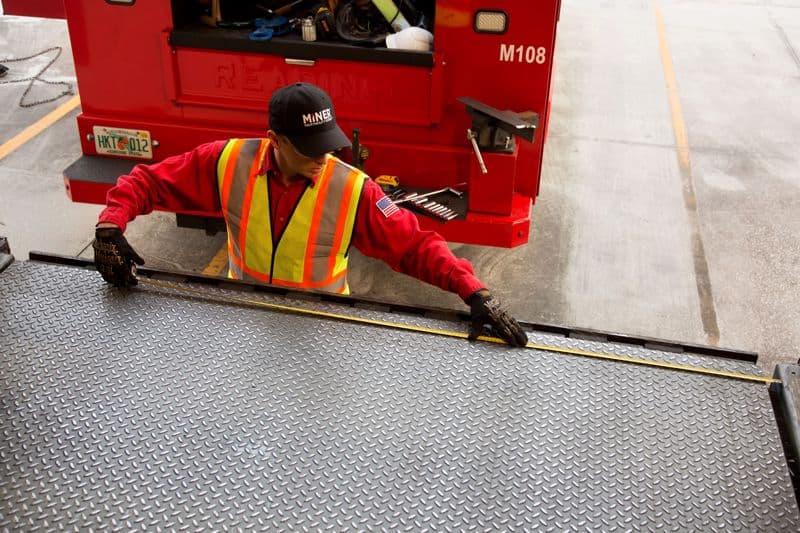 Efficiently maintaining the cold chain
If your organization deals with goods that must be kept in a specific temperature range, your loading dock design goal should be twofold: First, you need to ensure the products aren't spoiled. Second, you should take steps to make the temperature control process as energy-efficient as possible.
Loading dock seal assets that connect each truck directly with the loading dock door are critical in this regard, not letting outside air counteract the efforts of your air conditioning system. If the cold chain is central to your business model, you can update to a modern drive-through setup, in which trucks pull up inside a fully closed loading dock shelter environment. Space-saving assets such as vertical loading dock leveler systems make this design philosophy feasible.
Preventing contamination
Whether or not goods have to be kept cold, your loading dock design must prevent pests or the elements from damaging the items. Your loading dock shelter and seal selections should therefore reflect the conditions affecting loading and unloading operations.
Some loading dock shelter options are designed to stand up to even the most extreme weather conditions, which can simultaneously keep your employees out of the elements and prevent damage to shipments. Your loading dock seal and door choice can prevent pests finding their way into your warehouse, another important consideration when acting to guard against foodborne illness.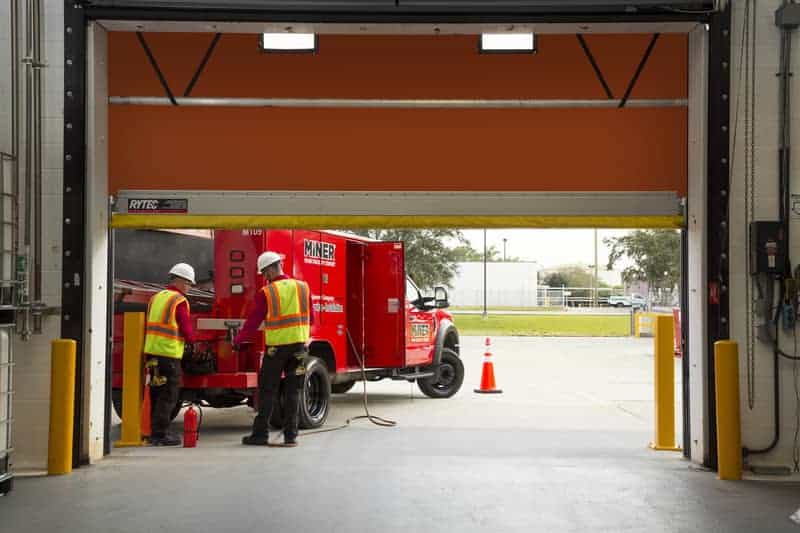 Enhanced safety awareness through loading dock design
The people who work for your organization are the lifeblood of your business, and creating an environment that promotes workforce safety awareness should be a high priority in loading dock design. There are numerous assets and features throughout the loading dock area that can contribute to this type of employee-friendly environment, each worth considering.
Vehicle restraints and loading dock bumper systems
Unexpected movements of a vehicle into a pedestrian area is one of the greatest risk factors on the loading dock. Your facility should incorporate equipment specifically designed with this danger in mind.
Vehicle restraints that lock trailers and trucks in place are essential in this regard. These assets, also known as truck restraint systems, help ensure trucks don't move away while loading or unloading is ongoing or accidentally drive too close and strike the dock. Modern vehicle restraint systems can be hooked up to electronic warning systems, with lights showing whether the lock is engaged or not. These visual warnings can improve safety awareness for everyone on the loading dock, from truck drivers and forklift operators to team members tasked with loading and unloading, as well as anyone else passing through.

When each door has a loading dock bumper of adequate size and material, there is less risk of trailers striking the wall and causing damage to the facility. These assets should be set up to account for factors such as the types of trucks that serve your facility, as well as the degree of decline leading up to the loading dock.
Guard rails and barriers
Guard rails and barriers should be in place to segregate foot and vehicle traffic into their own lanes, as well as to block off edges people could fall from. These should be strong enough to deal with the type of activity around them — for instance, is there a chance that the rails might be struck by a forklift? If so, they should be strong enough to resist that hit.
Visual warnings
When driving a forklift or moving goods by hand, employees should be able to tell whether they are approaching the lip of the loading dock or another edge. Visual warnings, with bright-colored floors or textured panels, can raise safety awareness in these critical areas. Even a single accident involving a falling person or forklift could prove disastrous.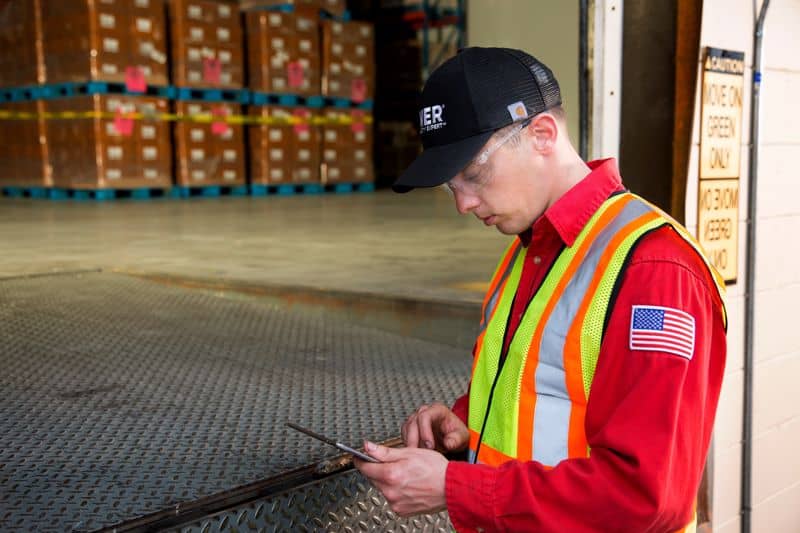 Efficiency-improving loading dock design considerations
The job of the loading dock is to act as one of the most essential links in the supply chain, the place at which all goods pass into and out of your warehouse or distribution center. This means your loading dock design considerations can have a direct impact on how quickly your logistics operations move.
While aging, unsuitable or damaged loading dock equipment can compromise the company's ability to keep up a strong and reliable logistics cadence, well-chosen assets help your employees achieve their potential for speed and efficiency. The following are a few categories of loading dock equipment designed with efficiency in mind.
Loading dock leveler and loading dock plate assets
The levelers and dock plates your people and forklifts use to step safely and quickly between the loading dock and truck beds should be chosen to suit your facility. Depending on the amount of space available, the frequency of traffic expected to pass and the dimensions of your loading dock doors, you can find a perfect match. Mechanical, hydraulic and pneumatic levelers are available, as are specialized options such as a space-saving vertical loading dock leveler.
Warehouse doors
The right door can make operations much more efficient. This is especially true of the high-speed doors dividing various areas of your facility. When these doors work smoothly and automatically, authorized personnel can move goods quickly, while keeping temperature management costs to a minimum and guarding against unauthorized intruders. Doors should be selected for reliability, as door system downtime can bring the loading dock area to a halt.
Automation and control panels
Adding more automatic features to your loading dock is one way to minimize physical exertion and keep operations smooth. When all your systems — such as automated door openers and loading dock leveler and restraint assets — are connected to a central control panel, supervisors can keep a close eye on loading and unloading activity. Unified control may also help with facility security, as managers will be aware of which doors are open at any time.
Equipment selection, installation, maintenance and repairs for your loading dock
Selecting the right assets and having them professionally installed are the first two steps of optimal loading dock design. If an inspection reveals your current facility is lacking in suitable equipment in any area, working to replace it should be an urgent agenda item.
The Right Loading Dock Equipment Assets, Installed Correctly
When you work with MINER for the selection and installation of loading dock assets, you can be sure you're receiving the best equipment, courtesy of a network of top vendors across North America. MINER expert technicians can then install and set up these assets to make sure your facility is ideally prepared to handle its logistics demands.
MINER's status as a national equipment service provider provides access to economies of scale. When supply chains are constrained by tough conditions and shortages, large buyers are first in line for equipment, whether that means a dock seal, a truck restraint, a commercial door or any other necessary equipment.
After acquiring necessary assets for your facility, MINER expert technicians can install them correctly to minimize the risk of failure and unplanned downtime, and to improve safety awareness on the loading dock and beyond. All loading dock options are best managed with the support of MINER facility professionals.
Once top-quality loading dock equipment is in place, your loading dock management efforts are not over — it's also important to have a long-term strategy for maintenance and upkeep. Reducing the chances of downtime and avoidable accidents benefits both safety awareness and logistical efficiency.
Loading Dock Options: Proactive Equipment Maintenance and Emergency Service
Once you've taken care of the critical design details and top-quality loading dock equipment is in place, your loading dock management efforts are not over — it's also important to have a long-term strategy for maintenance and upkeep. Reducing the chances of downtime and avoidable accidents benefits both safety awareness and logistical efficiency.
Frequent inspections that account for the suitability, age and current status of every asset are critical, as they let personnel take a more targeted and efficient approach to proactive maintenance in partnership with MINER. By maintaining the assets that need it most, you can extend service life and optimize total cost of ownership.
While proactive maintenance is designed to lessen the need for emergency repairs, it is always important to have a plan in place for these time-sensitive fixes. MINER can help here, as well. Trained MINER technicians carry the necessary tools with them to minimize downtime and keep your loading dock at peak efficiency.
Ready to put great loading dock design practices into action? Request a quote now.