Overhead door service from Miner
Keeping your warehouse or distribution center functioning at full efficiency means focusing extra attention on key pieces of equipment. The overhead door system is an important part of the fast-paced logistics environment your company is seeking to create. If your commercial doors are not maintained to a high standard, the consequences in terms of costly downtime could be severe.
Embracing a modern approach to warehouse and loading dock equipment means initially choosing industrial-grade commercial door systems that go beyond the standard garage door model, then keeping them in top condition. With MINER as your facility partner, you can make this important upgrade and reap the efficiency and safety benefits whether your business needs to install new commercial doors or you want to take better care of existing door assets.
Why does overhead door service matter?
The loading dock is the gateway to your facility, and your overhead door systems are a key part of the overall dock ecosystem. If an industrial door fails due to age or unnoticed wear and tear, the result could be extended downtime, or even a safety risk to the employees working in the loading dock area.
Overhead door service that includes a strong surveying and proactive maintenance component is therefore important, as this approach is designed to reduce the need for reactive emergency repair and get ahead of avoidable accidents. While your facility's loading dock door may resemble a residential garage door, its increased complexity and centrality to company operations make it worthy of extra attention and service.
It's easy to envision how a commercial door failure could slow down activity on the loading dock. If a door won't open reliably, that portion of the loading dock will have to shut down until a repair technician arrives, preventing new truck arrivals from loading or unloading. In today's data-driven supply chains, designed to enable just-in-time fulfillment, such a disruption could quickly cost companies thousands of dollars or more.
If you intend to further increase the efficiency of your supply chain by getting in line with this modern approach, you can't afford to have potentially unreliable overhead door systems serving as risk factors.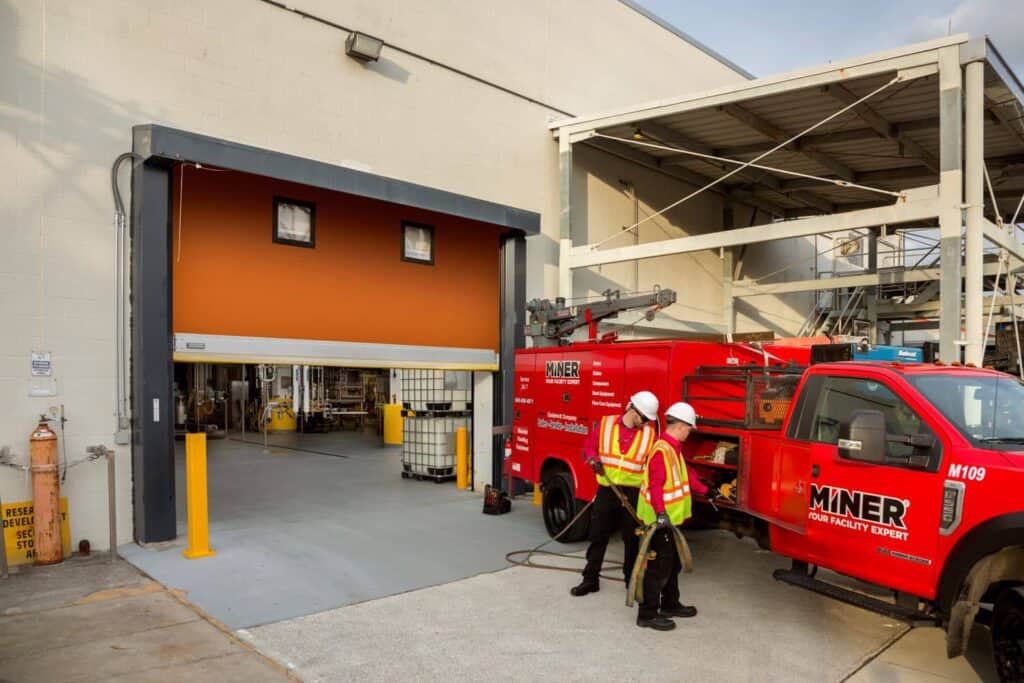 How does effective overhead door service contribute to the bottom line?
When overhead door systems are working up to their potential, they create an effective seal between your facility and the outside world, letting your supply chain operations continue at full speed. Disruptions, on the other hand, come with a variety of costs and consequences for your organization. The following breakdown of these issues shows why it's so important to take this area of facility maintenance seriously.
There is nothing more important than keeping people safe when it comes to any kind of facility upkeep or maintenance. This extends to overhead door service. When doors go too long between inspections or maintenance, wear and tear could increase the risk around the loading dock area.
A single accident can undo months of effective loading dock operations. In addition to the immediate pain and suffering caused by an equipment failure, there can follow a variety of hidden costs. From workers' compensation costs for time off to the expense of emergency repair and the potential for fines if authorities find the equipment was not safe, expenses related to overhead door accidents add up quickly.
Supply Chain Effectiveness
Putting together a modern, data-driven supply chain powered by the industrial internet of things (IIoT) requires the use of suitable equipment — and this includes overhead door systems. When you add sensors to your commercial garage door areas, you can begin collecting activity data that will help you direct operations on the loading dock with greater precision than was previously possible.
Of course, a door breakdown can undo this progress, stopping just-in-time deliveries in their tracks. Fortunately, the same data that can be used to direct dock activity can also become an important component in an overhead door service strategy that encompasses proactive maintenance. WIth access to more accurate statistics about equipment usage, it's possible to calculate effective life span and total cost of ownership, and create policies that will maximize these variables.
The Food Safety Modernization Act (FSMA) lays out clear guidelines regarding temperature control. Maximizing environment management to target FSMA guidelines and save money via energy efficiency could mean implementing a drive-through system of loading dock seals or shelters, or embracing greater automation in the retrieval process.
Temperature isn't the only consideration when it comes to preventing contamination, either. Your commercial doors should also be able to prevent pests or the elements from damaging goods as they move through your facility.
Keeping environmental contaminants and pests out is only part of your loading dock doors' job in protecting your facility. These doors should also be capable of preventing intruders from entering the building. As industrial doors at the loading dock are so frequently open during working hours, they may pose potential security risks.
You should ensure your doors don't create the potential for dangerous and costly security incidents by maintaining both the doors themselves and their opener systems, and by installing assets that address specific issues unique to your facility. Depending on the type and location of your facility, this may include ID card readers, biometrics, cameras or other door opener access controls. Workplace violence, property theft and intellectual property loss are among the risks you have to plan against.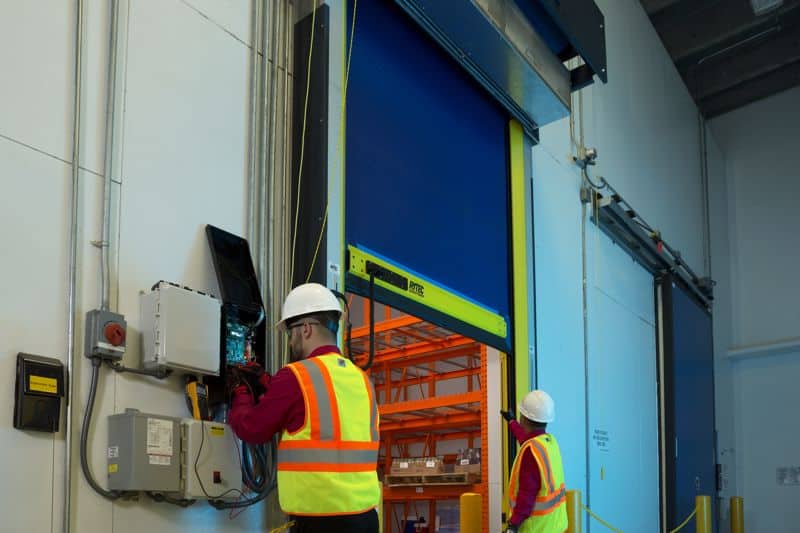 What are the most common classes of commercial overhead door?
Commercial overhead door systems, also known as sectional doors, are some of the most versatile doors for your facility. They should be selected to specifically suit your company's use case, and should be specialized in terms of:
Size: Getting a match between doors and types of truck loading and unloading at your facility is essential for supply chain effectiveness. Doors typically reach up to 32 feet wide and 24 feet high.
Gauge of steel: Doors are typically available in 16-, 20- or 24-gauge steel frames, depending on your requirements.
Track style: If there is a great deal of headroom in your facility, overhead doors can open completely vertically — on the other hand, it's also possible to create a curved-track door with as little as 18 inches of headroom.
Panel material: The exterior panels of a door can be made of glass, plastic or painted metal to match your building's aesthetic, visibility needs and more.
Insulation: When you need to maintain your facility's temperature, you can opt for thermal-efficiency or wind-load rated overhead doors.
If you need a larger option that goes even further beyond the standard overhead garage door model, you can investigate rolling steel doors. These can reach 40 feet high by 60 feet wide, and can be equipped with advanced door opener systems.
What does effective overhead door service look like?
From the beginning of the search for new overhead door assets to the everyday upkeep and maintenance of your system, there are plenty of points where working with the right commercial door partner will help your business thrive. The following are considerations along the way.
Sales: When purchasing new overhead doors, you should make sure your facility partner has strong relationships with the top asset vendors in your area. This will ensure your company has the maximum amount of choice and access to exclusive assets and high-quality products.
Installation: By working with trained expert technicians, you can ensure your equipment will be set up correctly for your intended use. This negates the problems often found in structures that were converted for warehouse use — the building's original loading dock equipment, including doors, may not have received adequate installation or be suitable for heavy usage.
Maintenance: A thorough approach to surveying and proactive maintenance can help increase safety awareness while cutting down on the need for emergency reactive repair service and helping to lessen the chances of avoidable downtime.
MINER can provide expert consulting and hands-on assistance from our technician team at any or all steps of the process, ensuring high-quality overhead door service. This is just one of the many ways we can help your facility reach its safe, efficient potential, as MINER is more than just an overhead door company — every element of your warehouse and distribution center can receive attention from our expert technician and consultant groups.