Loading dock service from Miner
MINER is the leading facility expert in North America, capable of handling every element of your warehouse and loading dock service and maintenance. From construction to installation and ongoing maintenance of mission-critical equipment, MINER keeps your facilities — and your whole supply chain — operating safely, efficiently and affordably.
Loading dock service and beyond: What MINER offers
Every business's needs are different regarding loading dock service, equipment installation and other essential facility management processes. By creating a customized plan of attack in collaboration with MINER, you can allow your supply chain operations to reach their potential.
Before you request a quote, you can inspect MINER's offerings, which include:
Equipment service and maintenance
Our loading dock service programs represent a proactive and technology-driven take on monitoring, maintenance and general upkeep. With trained and experienced technicians on call, you receive the perfect balance of maintenance and emergency repair to keep essential equipment functioning safely and efficiently on and around your loading dock. Your logistics processes depend on the highest quality service, and MINER can provide it.
Industry-leading loading dock equipment
Through relationships with the leading vendors of loading dock equipment and warehouse assets, MINER can help with all your organization's needs when outfitting a facility. From selecting each asset to installation and ongoing maintenance, you can be sure you're receiving the best in:
Requirement-focused construction services
Facility construction should be carried out in an optimized way that focuses on how the finished structure will be used. MINER is the perfect partner for such a project due to our close relationships with top loading dock equipment vendors and knowledge of loading dock and warehouse requirements. With a large group of capable, experienced professionals available to help with a construction job of any scale, anywhere in North America, MINER can help bring the project in on time and under budget.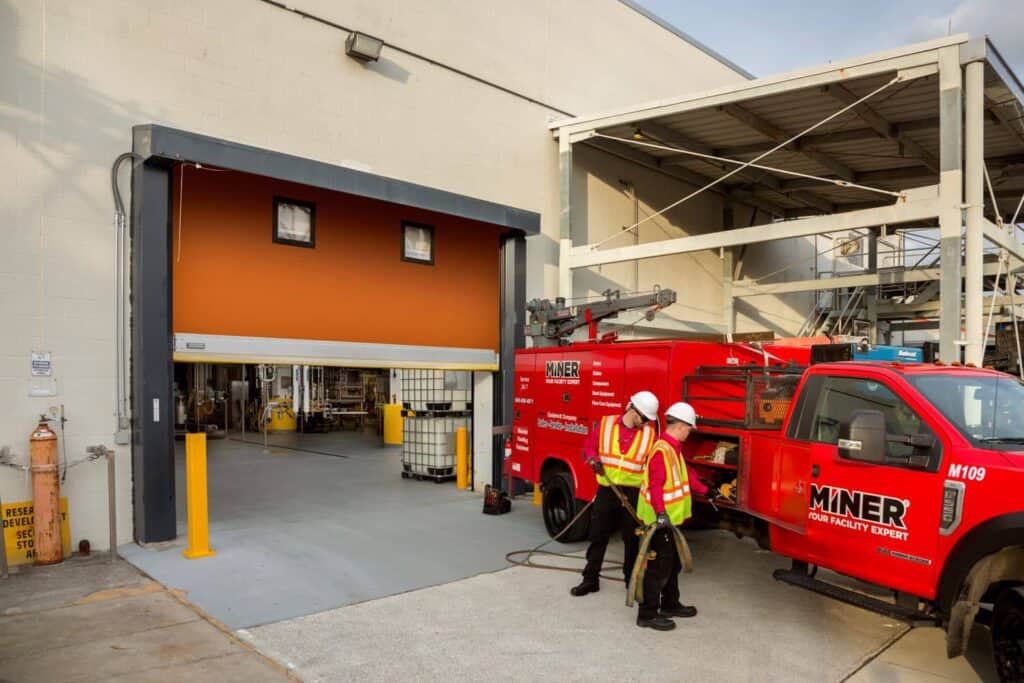 The importance of a safe, efficient loading dock
To keep the supply chain moving efficiently and effectively, every piece of loading dock equipment should be suitable for its purpose, installed correctly and maintained to high standards. The loading dock serves as a chokepoint for logistics processes, and a mechanical failure involving the loading dock door or related equipment could lose your company vital hours of productivity, with the resulting lost revenue.
Added to the loading dock area's essential function in logistics, the increasingly fast pace of the modern supply chain also makes it a center of potential risk. A costly incident could result in human cost that is greater than any balance sheet can account for, coupled with the potential expenses of medical bills, fines and more.
Leading risks to the loading dock area
Loading dock equipment may pose safety and downtime risks if any number of issues occurs. These include oversights in facility design, errors in installation or a lack of proactive maintenance and loading dock repair. An issue such as a misalignment between the grade of a decline leading up to a loading dock and the height of trailer bumpers could lead to a costly incident, and there are many such potential oversights.
Other common issues on the loading dock include inadequate guardrails or visual warnings around edges — a risk to personnel on foot and operators of powered vehicles such as forklifts. Equipment such as vehicle restraints for trucks or trailers may also be inadequate. Less sophisticated solutions such as wheel chocks increase potential risk, and they may be present in buildings that were not designed with their current use in mind.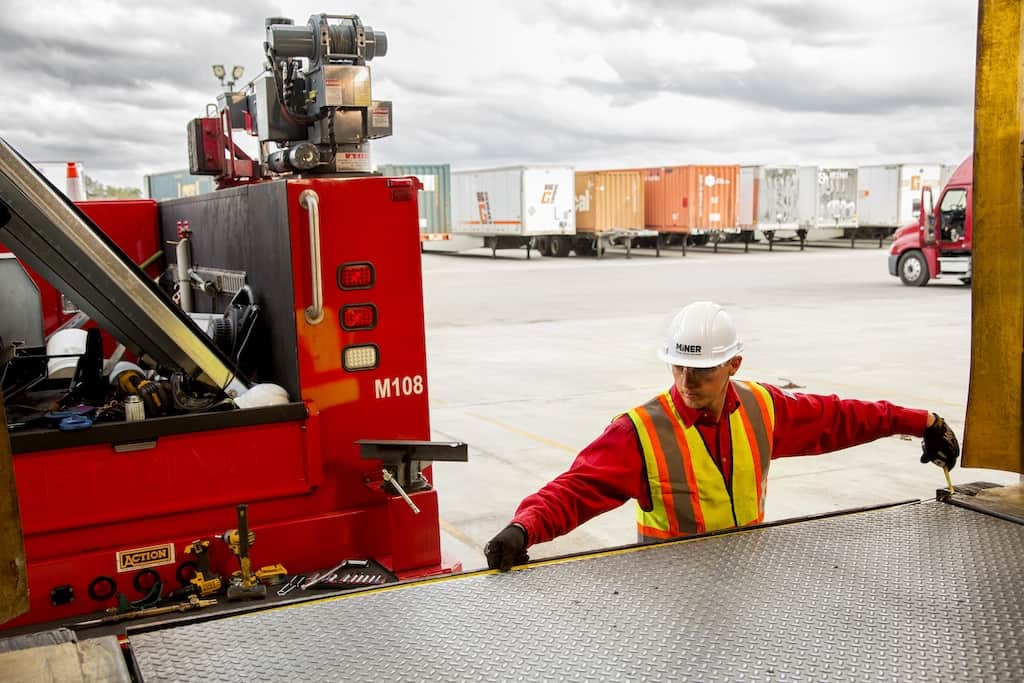 Essential loading dock equipment
A loading dock that meets the needs of today's demanding organizations should have suitable equipment from the top vendors in every category and region. The categories include, but are not limited to:
Industrial doors: Loading dock doors should suit their intended usage, with the materials, opening styles and more ensuring maximum reliability and optimized use of space.
High-speed doors: Automated high-speed doors replacing slower push-button models can increase the safety and efficiency of personnel moving materials to or from the loading dock.
Loading dock levelers and lifts: Assets designed to help with the safe loading and unloading of vehicles should be sufficient to handle the types of loads the company handles on a day-to-day basis, both to ensure employee safety and to minimize downtime.
Loading dock shelters and loading dock seals: Having adequate seals and shelters connecting trailers to the facility is an important part of keeping contaminants out of a warehouse and maintaining compliance with legislation such as the Food Safety Modernization Act (FSMA).
Loading dock safety equipment: From vehicle restraints and bumpers to guardrails and everything in between, assets that segregate employee and vehicle traffic and lessen the risk of a collision should be in place to reduce danger and satisfy inspectors.
The value of proactive loading dock maintenance
Why go with a proactive loading dock maintenance strategy instead of relying on reactive repairs exclusively? The difference comes from downtime. When personnel are constantly monitoring the age, suitability and real-time condition of loading dock equipment, they are better able to prevent downtime or failures before they occur.
The costs of a single instance of downtime can add up even if no one is hurt. Where injuries are concerned, one incident can prove devastating. In this way, proactive and responsible maintenance strategies quickly pay for themselves. This is the type of value your organization can realize from working with MINER at a strategic level.
MINER, an Onpoint company, has been operational in its current form since 1994, and has expanded to reach every corner of North America, enabling facility operators in all regions to experience the benefits of our expert equipment maintenance, installation and construction services.
It is our daily mission to not just be a leading facility expert, but THE choice for organizations in North America. Our teams of experienced, credentialed, trained and well-equipped technicians are available to provide the true strategic assistance today's logistics organizations demand. Together, MINER and your company can unlock lower costs, greater safety, higher uptime and a more sustainable environmental footprint.