Coiling doors: Installation and maintenance by MINER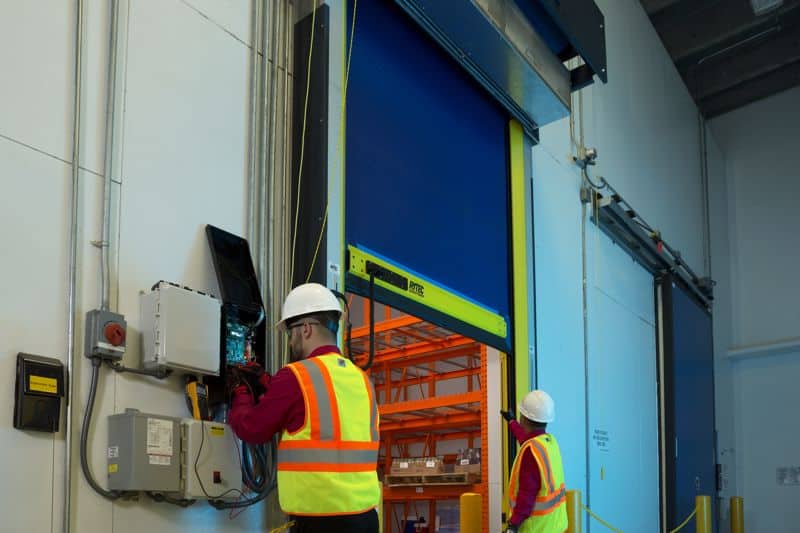 Reliable coiling doors, also known as rolling doors, are an important feature of your facility. Whether the asset in question is a garage door, a commercial door, an insulated door or any other sub-type, good performance is essential to keep the business moving at full speed.
A few considerations go into getting an acceptable level of performance from your heavy duty overhead coiling doors. First, you have to make sure the equipment selected is suitable for your facility and its intended use. Then it must be installed correctly by trained personnel. Once the asset is in place, it needs frequent inspections, as well as proactive maintenance and repairs.
With MINER as your expert facility partner, you can unlock this level of performance for your commercial coiling doors. The services provided by MINER at every step of the coiling door installation and upkeep process can help you maximize the total cost of ownership and usable life span of these assets.
Picking the right coiling steel door for your facility
Coiling doors are versatile, and can fit a wide variety of frames. As a type of overhead door, these assets roll up, an action which requires relatively little space. Even if your building needs a large door for a garage or vehicle bay, a coiling door might be the right choice — these doors can reach a maximum width of 60 feet and a height of 40 feet.
Size isn't the only attribute coiling steel doors bring to the table. These assets also provide a secure and reliable way to close a smaller opening, such as a commercial counter. You can also opt for a coiling security grate system, with solid galvanized steel construction to keep your facility safe during off hours.
The rolling door assets available through MINER are equipped with advanced mechanisms including helical torsion springs to make sure they deliver reliable performance over tens of thousands of cycles. For doors that will have to open frequently, it's possible to add high-cycle springs for even further operational life.
A computer-matched counterbalance ensures the doors open smoothly every time, whether they are used a few times a day or once every few minutes, as in a heavily trafficked parking garage scenario. A coiling door model with high wind load application can be an ideal option for outdoor usage in an area where the elements are a concern.
It's up to you to decide whether your commercial coiling doors will open via motor or manually. A motor delivers push-button convenience, and can be connected to an automated system and is well-suited to doors that have to open and shut often. A high-speed door at the entrance of a garage is ideal for a motorized door opener.
Manual opening and closing is a simple, reliable system well-suited to locations without power, or where the doors just have to be opened and shut at the beginning and end of the workday, such as with security shutters and grilles. Non-motorized opening options include chains, cranks, or a simple manual push-up method.
The following are a few of the specialized uses your company can find for overhead coiling doors:
There are a few requirements that come with a garage door: The asset must open and close quickly to keep traffic flowing. It needs to be strong enough to keep the garage secure when closed. It should look presentable, to uphold your company's image. These factors hold true whether the door is for a stand-alone garage or a vehicle bay attached to a larger building. With a
high-speed rolling door
equipped with a motor and connected to sensors that detect approaching vehicles, you can receive this level of performance. Depending on your garage's exact needs, you can select from a stainless steel grille, a door with transparent panels and an all-metal coiling steel door. The ideal choice will come down to factors such as environmental control, security needs and the appearance of the building.
Sometimes, a full door isn't necessary. Instead, a grille with galvanized steel slats will suffice. If you operate a parking garage that is generally open to the elements, but still want to make sure the entrance is closed when vehicles aren't entering or leaving, a rolling steel grille is a good option. This type of coiling door is also the industry-standard way to lock up a storefront in a shared commercial building such as a mall or shopping center. A grille is light enough for employees to open by hand or with a chain hoist, though the opening mechanism can also be motorized to minimize strain. In the case of an especially large grille or one that must open and close regularly, this automatic option is ideal. A grille is strong enough to keep potential vandals or thieves away while a facility is closed, and can be customized to fit the building's appearance.
When you need to shut a storefront, building entrance, retail counter or window against the elements and don't want the openings of a rolling grille, you can opt for a solid security shutter instead. These heavy duty rolling steel shutters are built for durability and suitable for both indoor or outdoor applications — from an indoor lunch counter to an outdoor storefront and many uses in between. You can install security shutters to keep
your facility's doors
and windows safe from the elements after hours, and stop intruders or vandals from damaging your building. A large security shutter with push-button operation can be the perfect complement to a retail store's main entrance, while a smaller model operated manually can protect a retail counter or kiosk, even when no power source is readily available.
Insulation is an important consideration for any building that needs to maintain a set temperature. A rolling steel door reinforced against the elements can keep your temperature control costs down, whether you are trying to keep your building warm in the winter or maintain a cold chain to comply with regulations, such as the Food Safety Modernization Act (FSMA). The space-saving design of coiling doors means these assets can be installed even when there is little space around an entrance. This means it's possible to find an
insulated door
that will meet your needs, no matter the shape or size of your building and its entrance area. A reliable door can also be essential in keeping out other elements that may contaminate goods and cause FSMA violations, such as pests.
Maintenance and service for your coiling doors
The potentially overlooked first step in optimizing your overhead coiling door performance is asset selection. Working with a national equipment service provider like MINER allows you to select from ideal assets produced by top manufacturers. You can ensure your new heavy duty assets are suited to their role in your facility, and MINER technicians can get them installed and running smoothly.
Once you've selected the ideal coiling doors, grilles or shutters for your facility and had them installed correctly by MINER's trained expert technicians, the job is not done. Keeping those assets operating in top condition for years to come is important. Even the best equipment may deliver suboptimal performance if it is not cared for properly.
Maintenance for commercial overhead doors today takes two forms, both of which MINER can offer assistance. First, you must ensure there is a proactive maintenance strategy in place to minimize the occurrence of avoidable breakdowns and downtime. Next, you will need to arrange for emergency repair technicians to help in case an asset does fail.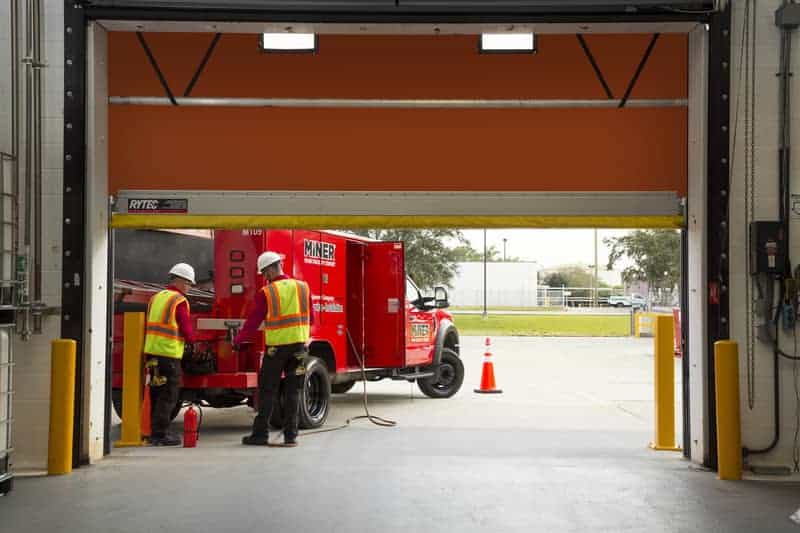 Proactive Maintenance: Get ahead of the problem
Modern
proactive maintenance strategies
are more intelligent and data-driven than ever. By creating a complete overview of facility equipment and conducting regular inspections, technicians can determine which assets to preemptively service based on factors such as suitability, age and current status. The point of a proactive maintenance strategy is to optimize the usable life span and total cost of every asset in the building. Companies that do not have such a strategy and wait for their coiling doors and other critical equipment to fail before engaging in repairs are forcing themselves to deal with downtime. Unplanned downtime of overhead coiling door systems is hard to deal with, especially during peak seasons. An inoperable sectional door can slow business to a crawl, limiting revenue during that period. This means that during times when more goods should be passing through commercial rolling steel doors, downtime has a bigger impact on the bottom line. Being proactive about upkeep is a way to keep that lost productivity to a minimum. When a technician is able to discover wear to an important mechanical part, such as a coiling steel door's cable, spring or roller, timely maintenance may prevent that issue from turning into a breakdown.
Emergency Repairs: Get back up and running
Sometimes, assets fail. Even at the best-maintained facilities, this is the case. The question then becomes: What will your company do when this occurs? Working with MINER ensures you always have trained technicians on call and equipped with the materials needed to get your rolling steel doors and other important assets working again as quickly as possible.
Considering that downtime affecting a rolling door can prevent people and goods from moving into or out of a building, it's easy to imagine the expense associated with an extended breakdown. The costs of lost productivity add up quickly.
Paying for employee salaries unable to do their work is one added cost of an extended equipment breakdown. Possible spoilage of perishable raw material shipments is another. Even once business starts moving again, the company will have to put in extra effort to get back on schedule. Minimizing downtime through proactive maintenance is step one in limiting damage — having the right sectional door repair technicians on call is step two.
When a rolling door suffers an issue, such as a broken spring or a bent track, the door can be wedged open or shut, demanding quick attention. MINER same-day service delivers the necessary repairs on a timeline that works for your company.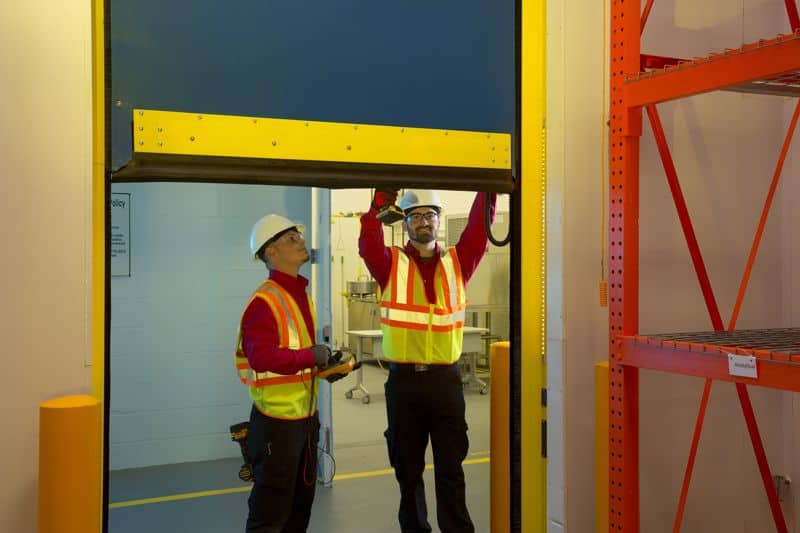 Coiling door safety awareness and efficiency
The primary reasons to focus so hard on selection, installation, maintenance and repair of your coiling doors are twofold. First, creating a positive work environment and promoting safety awareness among your employees should always be top of mind. Having the best, most well-maintained equipment helps you accomplish these goals. Second, a facility is simply more efficient when every asset works as anticipated, all the time.
If it's been too long since you assessed the performance of your building's overhead door systems, you may be dealing with suboptimal assets without realizing it. Facilities are sometimes constructed with mechanical systems that are less than ideal for their eventual uses, and this is especially common when the buildings are repurposed after they were built.
By taking the time to make a full inspection of every asset in your facility — whether it is a warehouse, a distribution center, a garage, a retail store or any other kind of commercial building — you can determine where improvements to commercial door systems would make a positive impact. You may find opportunities to improve efficiency, safety awareness, the professional appearance of the building and more.
MINER can assist in this process of determining your ideal equipment setup, and then in all subsequent steps of acquiring, installing and maintaining those assets. Through partnerships with top vendors all over North America, MINER can connect your company with the ideal commercial coiling doors for your needs, no matter the type of facility you're outfitting or its location.