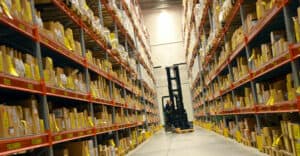 Loading dock doors and all related equipment are part of the backbone of our country's supply chain. It's easy to forget the role they play in the success or failure of our facility operations – most of the time, the equipment we rely on just fades into the background as we turn our focus toward uptime, productivity, and moving product. It's only when that equipment suddenly fails or falls apart that we realize our operations are literally dependent on the functional status of our equipment. This may sound obvious, but for so many of our clients – this realization comes too late, and the regrets (of lackluster maintenance processes and lack of attention paid to the equipment) are many.
Many facilities are facing extremely extended wait times for replacement parts and equipment. Pre-pandemic, typical wait times for new door panels or dock levelers may have been around four to six weeks. Now, we're looking at four to six months. I recently spoke with a client who waited 32 weeks for new doors and even then only received pieces of what he needed – not the full order. It's a challenge even to find the parts right now, let alone keep operations running smoothly as you wait months for them to arrive.
"I have three tips for facility managers looking to take control back into their own hands. This guidance will help better position your operation and may mitigate the likelihood of having to wait six or more months for new equipment"
Double or triple your investment in equipment maintenance – While there's not much to be done about dock and door equipment that's already failed, there's still significant opportunity for cost- and time savings when it comes to the currently functional equipment in your facility. Even if some of your dock and door equipment is only passably functional, you still have that opportunity to protect your investment and avoid having to replace the part. The key is upleveling your focus and investment on maintenance and ongoing assessment. While your facility certainly has a maintenance strategy and process in place, given the current supply chain disruptions, I'd recommend doubling or tripling the time and manpower you invest into this process. The more focused attention you provide to your still-functional equipment now, the more likely you are to catch small glitches that could soon turn into big problems, and the more likely you are to avoid having to replace that equipment. So whatever your past strategy has been for maintenance, it's time to double down.
Save every potentially-functional equipment part – Take a lesson from the book of our grandparents, who preferred to save and mend their belongings instead of just discarding them. The practice of salvaging pieces that still have potential value and use and then pairing that with an open mind and creative thinking can help you to create some of your own workaround solutions for keeping things running in your facility. If a piece of your loading dock door or other equipment is not completely structurally shot, reserve it for possible later use. With your team's ingenuity, you may be able to identify a new home for that piece and prevent having to replace more equipment later. Assign a section of your facility's storage area to these parts and pieces, and make the whole team aware that the new practice is to save everything, waste nothing, and get creative about finding our own solutions.
Begin working on a specialized, custom equipment stocking program now – This tip won't do much to help a facility currently struggling under the burden of equipment failures and long wait times, but it will go a long way to ensuring smooth operations in the future. The unfortunate reality is that many more supply chain disruptions will likely occur in our lifetimes – possibly due to other pandemics, crises, and conflicts – or due to unforeseen causes. It's better to be prepared well in advance, before these situations arise, so that you're equipped and ready to handle it in the best possible way. And one of the best ways to be prepared is to develop a bespoke, custom program and process – potentially in concert with a well-connected vendor partner – to develop custom equipment specs, asset tagging, and tracking. Don't just continue to rely on the equipment inherited from the previous facility operator – begin to build out a standardization process for specializing your equipment, your process and your partner for replacing that equipment. When you have that in place, you won't be dependent on the same equipment and the same replacement process used by everyone else.
With so many competing priorities, a disrupted supply chain, and a stressed manufacturing and distribution industry, it's no wonder that so many facility leaders aren't keeping their equipment maintenance top of mind. We all have a lot to think about right now, and it's easy to see why equipment can fall by the wayside. But it's the kind of problem that only gets worse over time. Take action now to begin to change your process for dock and door equipment upkeep – you'll thank me later. Dennis Sanacore is Vice President of Strategic Sales at Miner, the docks and doors special division of OnPoint Group. He has more than two decades of experience within the facility services, warehousing, and logistics sector.
This article has been featured in Material Handing Network and Material Handling Wholesaler with over 200,000 combined visitors per month views. The information in this article has also been spotlighted in Miner's exclusive webinar series, where key industry trendsetters and leaders come together to help answer today's facility management hot topics and challenges. Sanacore joined forces in a recent webinar with Tom Ryder, CCO at TFS, an OnPoint Group Material Handling Fleet Management Company, called  "Preparing for an Explosion in Equipment Downtime" designed to teach facility managers how to effectively prepare for the upcoming explosion in equipment downtime. Equipment Downtime is one of the hottest topics that Fortune 500 companies are currently discussing and prepping for now. In these webinars, Miner provides a toolbox of strategies to get facilities back on track during this time of supply chain disruption. Be sure to check out Miner's website for more upcoming webinar information.