Forklift dock plate installation and maintenance from MINER
Forklift operation is a critical area of warehouse management. These powered vehicles are the key to loading and unloading speed and efficiency, but without the right oversight — and the right loading dock equipment — they can also become a center of risk.
The process of getting a forklift from the loading dock into the bed of a truck or trailer is an especially vital step If your facility lacks sufficient, well-maintained forklift dock plate equipment, operators may be at an elevated risk of sustaining an avoidable accident.
The Occupational Health and Safety Administration has taken note of the importance of safe forklift operation, with the agency issuing specific and detailed regulations around the use of these vehicles. As a facility operator, you should strive to go above and beyond the OSHA regulations when equipping your forklift operators with the assets and oversight needed to achieve peak efficiency and confidence.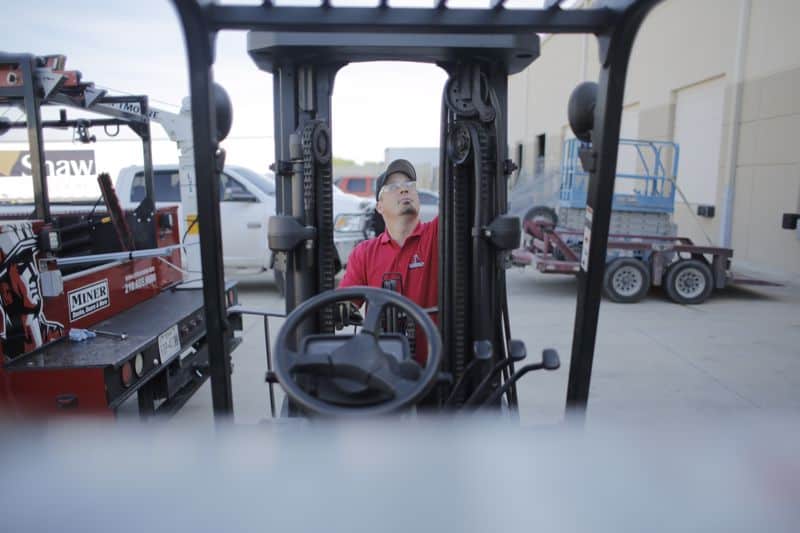 The need for sufficient forklift dock plate assets
A forklift dock plate is an easily overlooked piece of equipment because of its small size and relative simplicity. Despite its lack of complex moving parts, a dock plate is still an essential part of any loading and unloading safety awareness program. Your forklift operators, vehicle drivers and all other warehouse personnel need to know they can count on dock plates to perform under everyday wear and tear.
Having dock plates that match your loading and unloading requirements isn't just important from a safety awareness perspective. Adequate and well-maintained equipment is critical to keep operations as fast and efficient as possible. If the process of moving goods between vehicles and the loading dock slows down, it can become a productivity bottleneck for your supply chain.
Dock plate or loading dock leveler?
One important question to ask when assessing your loading dock equipment is whether a manually deployed forklift dock plate is your best option for loading and unloading. If your organization is dealing with a high volume of traffic around the loading dock, it may be better to select a loading dock leveler.
A loading dock leveler can come in several varieties, from mechanical dock levelers put in place by walking over them to hydraulic or pneumatic dock levelers that are powered and require less manual exertion from employees. These assets provide a potentially more efficient way to connect the dock with trucks or trailers. Modern options, such as vertical levelers, can also save significant space on the loading dock.
The primary thing to keep in mind when deciding between a standard dock plate and a loading dock leveler is that no matter what kind of equipment you select, the same priorities remain. You should ensure the asset you are purchasing is suitable for the type and volume of traffic that will be passing over it, and make sure it is maintained to high standards to minimize the risk of an avoidable failure.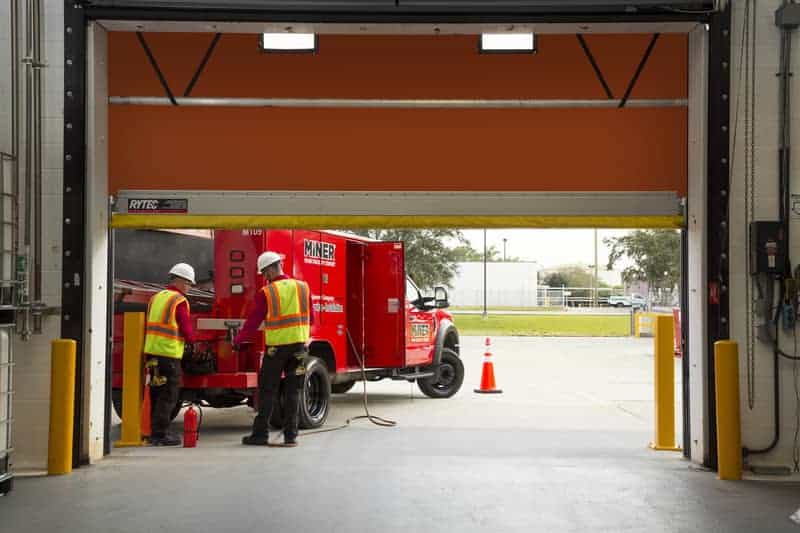 Loading dock safety and OSHA awareness
Staying in line with OSHA regulations is a major part of effective loading dock management. Not only is careful compliance necessary to avoid problems with inspections, paying close attention to the OSHA rule book is also a way to verify whether you are taking adequate steps to promote safety awareness on the loading dock.
Because an incident involving a forklift can result in serious injuries and damage to property, there are numerous OSHA regulations around safe operation of these vehicles. Some of these specifications relate to the correct design, deployment and use of dock boards, a category including both forklift dock plate and dock leveler assets.
Regulations around forklift dock plate assets
OSHA's rules around forklift operations on the loading dock received an important update in 2017, bringing extra attention to the regulations. As Modern Materials Handling reported, organizations now must use dock boards with raised side walls when bridging a gap, such as between a loading dock and a truck bed.
There is an exception to the rule about side walls — employers may keep using dock boards without the raised barriers if they can prove there isn't a risk of vehicles falling from the dock plate or loading dock leveler.
Other stipulations in the OSHA rule include the requirement that portable dock boards have to be secured when they are in use. If there is no feasible way to anchor a dock board in place with equipment, the employer must demonstrate to OSHA that the device won't move out of a safe loading and unloading position because of significant contact with nearby surfaces.
OSHA also requires companies to only use dock boards that are rated to safely support the loads that will be traveling across their span. Furthermore, forklift dock plates put in place by hand need to sport handholds, so employees can move them into position without difficulty.
The need for loading dock vehicle restraints
One or the most important OSHA rules around dock board use isn't about those assets themselves, but rather the systems to prevent trucks from shifting or rolling away during loading and unloading. The regulation specifies that some device must be in place to stop trucks, trailers or rail cars from moving.
While OSHA's suggested solutions for stopping vehicle roll-aways include wheel chocks and sand shoes, many organizations have upgraded their restraint systems to include built-in vehicle restraints. These systems can incorporate automatic features that allow for remote activation and allow supervisors to view the status of a given berth by viewing a centralized control panel.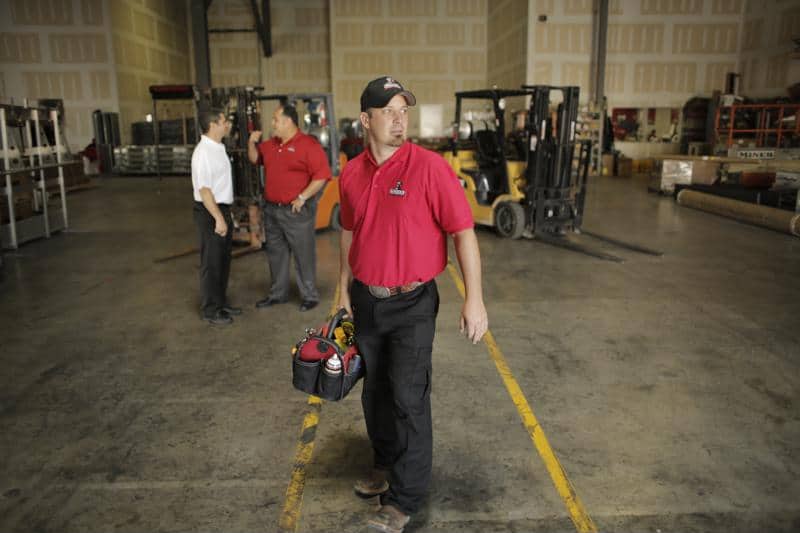 The importance of forklift dock plate maintenance
There are a few steps involved in creating a well-equipped loading dock area.
Selecting the right assets
to meet OSHA requirements and suit your loading and unloading needs is just the beginning of this process. You have to ensure there are processes in place to keep the assets maintained and in top condition for years to come. A forklift dock plate or forklift dock leveler falling into disrepair because of neglect can provide the same kind of risk as using an unsuitable asset in the first place. Therefore, make sure your maintenance and upkeep strategies are comprehensive and suited to your specific loading dock requirements. The following are important components of an overarching maintenance approach:
Frequent, comprehensive inspections: Loading dock equipment inspections should be carried out regularly and involve every asset, including forklift dock plates and levelers. These assessments need to consider the suitability of each piece of equipment for its role, as well as the age of the asset and its present condition. Equipped with the results, employees can formulate a targeted maintenance strategy.
Proactive maintenance: Maintaining assets before they break down is one of the most value-creating undertakings for a facility owner, and one in which too few companies engage. When technicians perform effective proactive maintenance on loading dock equipment, they can extend the usable life span of these assets, optimizing total cost of ownership. The goal of these programs is to drastically reduce the need for reactive emergency repairs.
Rapid repair service as needed: Even organizations with effective proactive maintenance programs should have reliable emergency repair technicians on call. Downtime to a central loading dock asset, such as a forklift dock plate or loading dock leveler, can create costly supply chain slowdowns. When expert personnel are available around the clock, your facility can react to any breakdown that occurs.
The need to engage in this 360-degree approach to maintenance and service is a reason to
select MINER as your facility partner
. From initial consulting regarding your loading dock needs to ongoing maintenance and on-call repair services, MINER's team of experts is available throughout North America to keep high-priority assets, such as forklift dock plates, functioning to superior standards. When your loading dock equipment use is optimized to this level, both safety awareness and supply chain efficiency stand to benefit. Keeping forklifts and workers moving smoothly between the loading dock and each truck or trailer is the key to optimized modern logistics, without avoidable accidents or extended downtime causing dangerous or costly disruptions.
Completing your loading dock equipment setup
When upgrading your forklift dock plates and loading dock leveler systems, you can take the time to ensure all other equipment in the area is up to the same level of suitability, quality and condition. After all, downtime affecting any element of the loading dock can bring slowdowns and heightened employee risk.
A warehouse or distribution center in today's fast-moving supply chain environment is a hub of activity for trucks, forklifts and employees on foot. Ensuring all these people and assets can coexist efficiently and without unnecessary risk is essential. It starts with an assessment of your equipment.
It's unfortunately common for warehouses and distribution centers to not have sufficient loading dock equipment to meet organizations' high standards. Especially in cases where buildings were constructed to fulfill other roles — for instance, retail stores — the facilities may have been installed with low-cost equipment by default. In these cases, it's uniquely important to assess assets and revamp the loading dock for your purposes. Systems directly impacting your loading and unloading operations, in addition to the forklift dock plates, loading dock levelers and vehicle restraints already mentioned, include:
Loading dock seals and shelters: Personnel and vehicles operating on the loading dock are able to move more securely and efficiently if they are protected from the elements. Effective loading dock seals and shelters can also help keep temperature control costs down, which is pertinent for companies maintaining a cold chain to comply with the Food Safety Modernization Act (FSMA).
Loading dock doors: Reliable doors that are the correct size and type for your facility can enable quick, efficient loading and unloading. If you expect to use forklifts extensively around the doors, make sure to select models capable of sustaining a vehicle hit without suffering serious damage.
Loading dock guard rails and edge paint: Guard rails are required by OSHA around heights of four or more feet. The agency's guide to forklift operations also mentions painting bright warning stripes around dock edges to help vehicle operators be aware of an approaching drop.
When you're ready to take a comprehensive approach to loading dock improvement, MINER is the No. 1 partner to call.